相/Phase Exhibition
3 August 22

-

7 August 22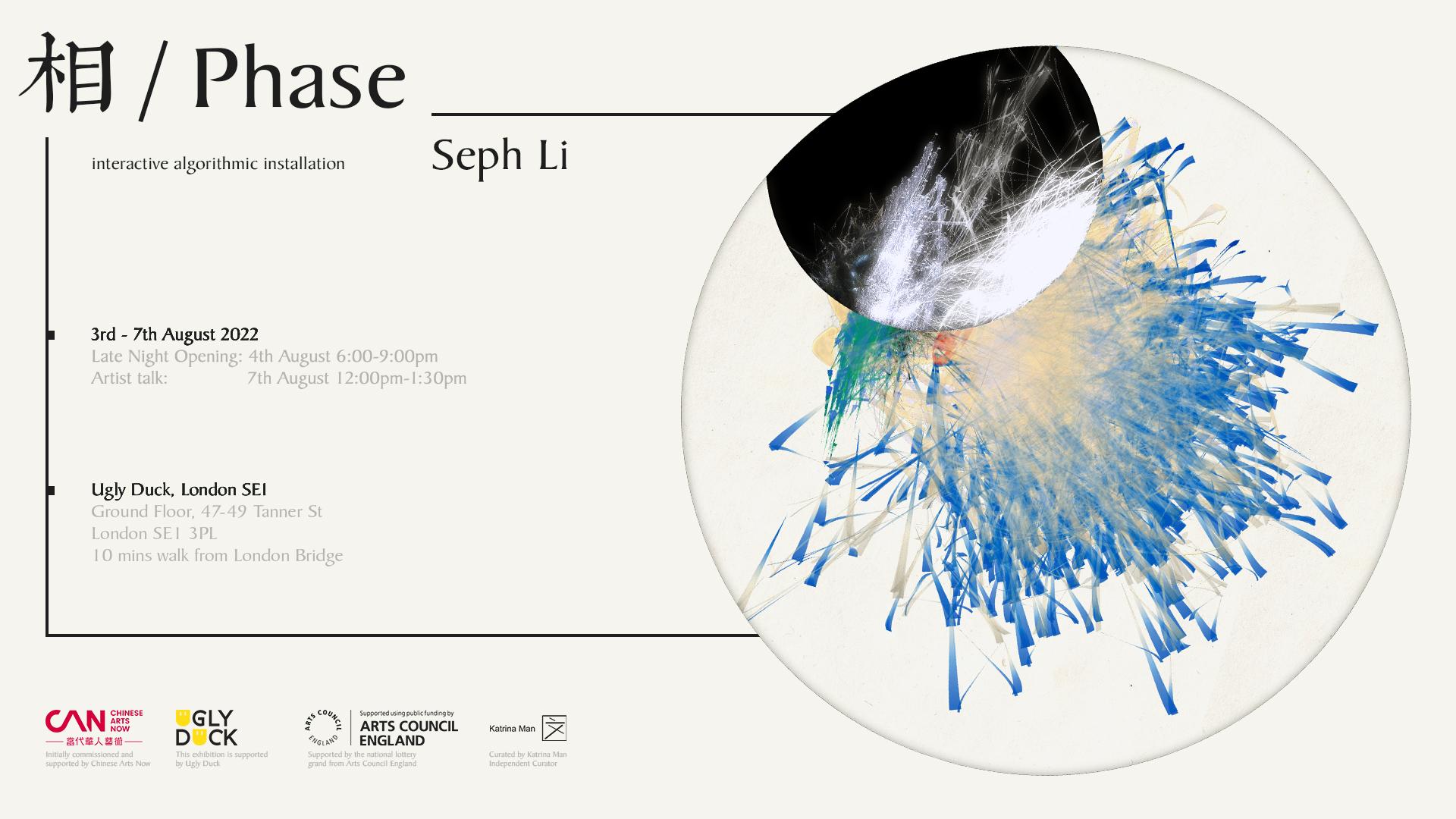 相/Phase is an interactive, algorithmic artwork, exploring how the abstract, mathematical and basic
rules of physics evolve into our infinitely varied, macro and observable/tangible world of organisms
and things.
Originally commissioned by Chinese Arts Now in 2020 as a digital artwork, 相/Phase will be
presented as a sculptural, moving image installation for the work's first physical exhibition. Visitors
can experience 相/Phase physically in the space and use a bespoke device to influence its infinite
outcomes.
相/Phase is a visual manifestation of physicist Stephen Wolfram's theory that the universe is
comprised of "a set of simple rules, that with repetition and expansion, could contain infinite
possibilities for creation" (Project to Find the Fundamental Theory of Physics, 2020). This theory
resonates with the principles of Daoist philosophy, known as Daosim or Taoism, founded in the late
4th century BCE in China. The core principle of Daoism is living in harmony with the ever-changing
rhythms of life, with the word 'Dao' meaning "way or path". Dao represents the pattern and
substance of everything that exists, acting as the underlying natural order of the universe.
To express these enigmatic notions, Seph uses the aesthetics and fluidity of Chinese ink painting,
translating this ancient medium into a contemporary digital form. As visitors use the small device to
interact with the installation, a mesmerising cosmic experience unfolds within the painting in front
of them.
Dates & Times
Wednesday 3rd August, 12pm – 6pm
Thursday 4th – Saturday 6th, 10am – 6pm
Sunday 7th, 10am – 3pm
Events/Live Programme
Private Tours, Wed 3rd Aug, 12pm – 6pm
Register here: https://www.eventbrite.co.uk/e/379084962327
Late Night Opening Event, Thurs 4th Aug, 6-9pm
Register here: https://www.eventbrite.co.uk/e/379566713257
Artist Talk with Seph & Katrina, Sun 7th Aug, 12pm – 1:30pm
Register here: https://www.eventbrite.co.uk/e/379701747147
Artist Biography – Seph Li
Born in 1988 in Beijing, China, Seph holds bachelor degrees in both Compute Science and Digital
Design from Tsinghua University. After obtaining his M.F.A. in Design | Media Arts department,
School of Art & Architecture from UCLAs in the United States in 2012, he has travelled and worked
around Asia and Europe. He has then lived in Tokyo, Barcelona, Shanghai, Amsterdam and London.
During his time in Tokyo, he has been working with famous art collective teamLab and led its
interactive team for several major installations that are still on tour today. Seph's works have been
exhibited internationally in the U.S., China, Japan, Germany, Spain, Brazil and Norway, in many
major media arts festivals. After relocating to London, Seph has been working as a freelance tech
artist, as well as continuing his own art practice http://solid-jellyfish.com/
Curator Biography – Katrina Man
Katrina is an independent curator and arts producer based in London. During and since completing
her History of Art BA (UCL) and History of Art MA (University of York) she has been specialising in
innovative and under-represented contemporary art, especially art that engages with technology,
social/political issues, the moving image and sculpture, and emerging artists' practices.
She has worked on a range of projects in museum, gallery, public programme, art consultancy and
independent curatorial project contexts. This includes Chinese Arts Now (London-based;
UK/International), Mayor of London (London; online), Sculpture in the City (City of London),
Nocturnal Creatures (City of London/Whitechapel), Culture Mile (City of London), and The
Hepworth Wakefield (Yorkshire, England) www.katrinaman.com