RƎWIRE by BJ MCNEILL
19 June @ 19:00

-

20 June @ 21:30

11£ – 15£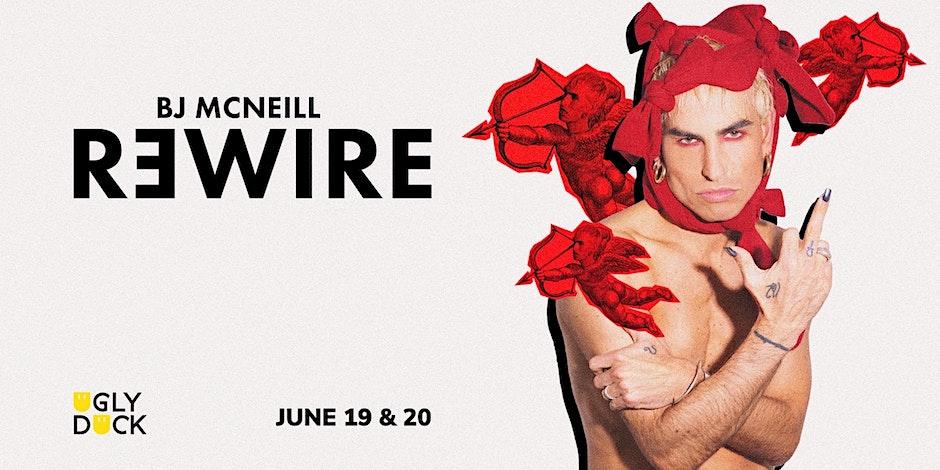 RƎWIRE is a live work that started with dance and looks at the cross sections of disidentification through interdisciplinary theatrical practice and a queer lens.
Using a rhizomatic approach RƎWIRE explores traditionalisms, while perforating and reframing them by placing them in conversation with something new, different or other.
Drawing from Hip Hop and alternative sonic landscapes RƎWIRE explores sampling – sonically and performatively, and looks at hip hop and queerness through rap, movement and object play and repurposing.
RƎWIRE explores resistance and masculinity and the body as a site of labour alongside public & private space & sex. 
Content Warning: This show deals with aspects of homophobia with language that may be upsetting to some audiences, the show has themes of sex, blood and violence and references drug use. 
Audience note: This is a standing performance. To support accessibility there will be a number of seats around the space. You are free to use them but please give up your seat if you think someone may be in more need and please leave some seats free for those who may require them and not have visible disabilities. . 
Creatives 
Photography & Digital Design: Yucel Gulec 
Performed by: Bj McNeill & Ted Rogers & Fernando Solis 
Sound: Fernando Solis 
Choreography: Bj McNeill 
Movement Direction: Ted Rogers 
Assistant Producer: Amy Sze
Set & Production Design: Anna Niamh Gorman, Alex Clow & Bj McNeill
Technical Assistant: Luca Cippollone 
BJ MCNEILL is a performer & creator based in London, their work encompasses dance, acting, devising methods & drag and operates in and around theatre, nightlife and cabaret. They are a go-go dancer and member of queer collective Little Gay Brother. Recent work includes Ouroboros at Camden People's Theatre, Afterparty (BBC) & Flawed____like a b_y at La MaMa Melbourne. They are soon to be an MFA graduate of Advanced Theatre Practice from the Royal Central School Of Speech and Drama.