Altar-native
7 October @ 15:00

-

9 October @ 16:00

Free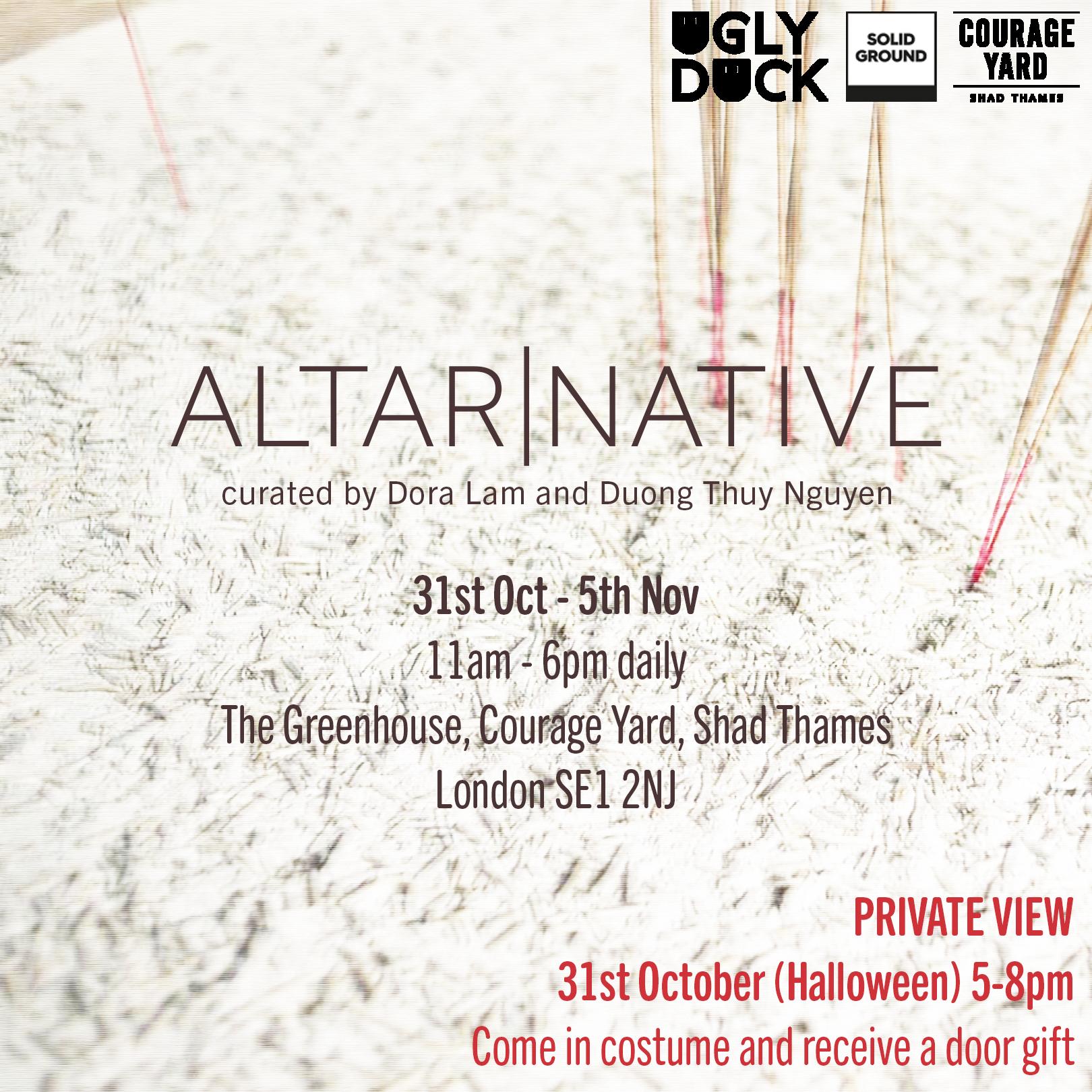 Altar-native Exhibition: A Journey into East and Southeast Asian Ancestral Heritage in newly opened Ugly Duck Courage Yard
31st October – 5th November, The Greenhouse, Courage Yard, Shad Thames, London SE1 2NJ
Courage Yard with exhibition Altar-native featuring work by nine East and Southeast Asian (ESEA) artists. From October 31st to November 5th, Altar-native will offer a captivating exploration of ancestral heritage and veneration, weaving together enigmatic histories and personal journeys through diverse artistic expression.
Altar-native immerses visitors in the multiplicities within ESEA culture and diaspora. The artists come together to magnify and challenge ideas of death and mourning, confronting societal taboos. By expanding the notion of "ghosts", exploring ritual and altar practices, the exhibition serves as a conduit for the reexamination of ancestral, and therefore personal, identities. The exhibition also explores themes of loss and immortality, transcending human-spirit boundaries and conventional understandings of grief.
Launching on Halloween, guests attending the opening night are encouraged to draw on ghosts and ancestral heritage as inspiration for their costumes/outfits.
Curators:
Dora Lam
Duong Thuy Nguyen
Featured Artists:
Alison Lam @alisonlam_art
Bettina Fung | 馮允珊 @bettinafws
Dora Lam @dorathedrawer
Duong Thuy Nguyen @duonguyen.thuy
Megumi Ohata @megumiohata
KV Duong @kvduongart
Sammi Mak @mak.sammi
Yang-En Hume @yangenhume
Yu Leng @buleng000
About the artists
Alison Lam 
Alison Lam identifies as a neurodivergent, interdisciplinary, socially engaged British-Chinese educator, activist, a mother, as an artist using differing materials such as porcelain, metals, glass and paper. Alison's work explores through her cultural heritage difference, isolation, belonging and inclusion and her practice facilitates conversations for people who sometimes find it hard to communicate. Stemming from her own personal experiences with her two sons, who are autistic with complex needs, Alison uses art and activism to bridge these gaps and create a space that's supportive and accessible. 
Bettina Fung 
Bettina Fung | 馮允珊 is a Hong Kong born, British-Chinese artist based in the UK. Her practice centres around the performative nature of drawing, and bringing people together to explore participative means of sharing the creative making process. She creates 2D, site-specific and performative works that explore and question subjects of legacy, belonging, futility, productivity and progress. With a strong interest in the ideas of 'commoning' and 'creative collective actions', her recent works are associated with the themes of shared authorship and the dynamics within working and building together and often involve audience interactions.
Dora Lam 
Dora Lam is an interdisciplinary artist navigating notions of identity, diaspora, transnationalism and heritage. Her socially-engaged work deals with cultural complexity and displacement on personal and collective levels. She is especially interested in how collaborative art practices can mine, construct, preserve and engage with the more nuanced forms of cultural and familial heritage. She is concerned with challenging the "invisibility" of the (mis/under)represented ESEA diaspora and places community at the forefront of her practice.
Duong Thuy Nguyen 
Duong Thuy Nguyen is a Vietnamese multidisciplinary artist, and writer based in London and Hanoi, who explores the questions of origin, memory, and belonging in relation to place and landscape. Using habitats as the basis, Duong experimental works concurrently allude to the historic circulation of products and people, to cycles of life, death and rebirth, as well as notions of individual history, intergenerational exchange and inherited trauma. Graduating from Central Saint Martins with a distinction, Duong's Master Fine Art project was awarded as a winner of Maison/0 This Earth Award and the mentioned Cass Art prize in 2023.
Megumi Ohata 
Megumi Ohata is a London-based interdisciplinary artist and SFX MUA of primarily Japanese heritage with a mixed Korean background. Their practice explores gender, identity, and Posthuman philosophy, addressing personal traumas – from the impacts of child abuse to the discrimination they have faced due to their Asian heritage. Ohata perceives their art as an extension of their own body, blurring boundaries beyond their skin, seeking the non-human form within. They challenge the role of artists in breaking free from society's negative cycles and pose the question: What does a body need to be relatable?
KV Duong 
KV Duong (b.1980 Ho Chi Minh, Vietnam) is a London-based artist who examines the complexities of the Vietnamese queer identity through painting, performance, sculpture, and installation. Duong grew up in Canada to Chinese Vietnamese parents displaced by the Vietnam War. In his work he explores themes of migration and cultural assimilation through the lens of his personal and familial history. Duong presented his first institutional solo exhibition at the Migration Museum in 2022. In Spring 2022, he co-curated and led a collaborative exhibition titled "No Place Like Home" at Museum of The Home. 
Sammi Mak 
Sammi Mak is a female artist born in Hong Kong and currently based in London. Her works explore how painterliness depicts personal experience and identity in reality, acting as a form of language. She delves into the realm of poetry by replacing linguistics with painted lexicology. Her works bring together the psychological stages and spiritual connections of human beings and the universe, conveying a sense of oneness and ecstasy through paint and writing.
Yang-En Hume 
Yang-En Hume is an Australian-Singaporean artist working with installation, textiles, and alternative photographic processes. Her work explores memory, untold stories, and cultural identity. Hume's work explores the Asian-Australian experience, reflecting particularly on the permeable categories of 'Asia' and the 'West'.  She is interested in how family photography is used as a social practice that both reflects and shapes relationships and cultural practices. 
Yu Leng 
Yu Leng is from Jinan, China and has been living in the UK since 2015. She graduated from CSM with an MA in Contemporary Photography; Practice and Philosophy in 2021. Her work involves photography, moving images and performance. Usually intrigued by the physical space, landscape, notion of power and time discursively. Her work centres around the reconstruction and deconstruction of the narratives surrounding her daily life. She was interested in adopting a phenomenological way of documentation, portraying obscure figures while realising the impossibility of escaping the cultural notion that was embedded in her. She enjoys playing with different digital tools and also practising techniques with analogue cameras.
Community Drumming CIC – Drumming Circle (collaborative performance)
Edgar Deu and Gary Lee are percussion teachers and band leaders with more than 15 years of experience playing afro-brazilian music. They recently founded Community Drumming CIC, a non-profit organisation that provides low cost drumming workshops to underrepresented, underprivileged and marginalised groups with the goal of building inclusive, collaborative and resilient communities that fosters human interactions, empowers people, develops their artistic creativity, and improves their mental well-being.