ANTI // DOOMED feast
13 October @ 19:00

-

21:00

25£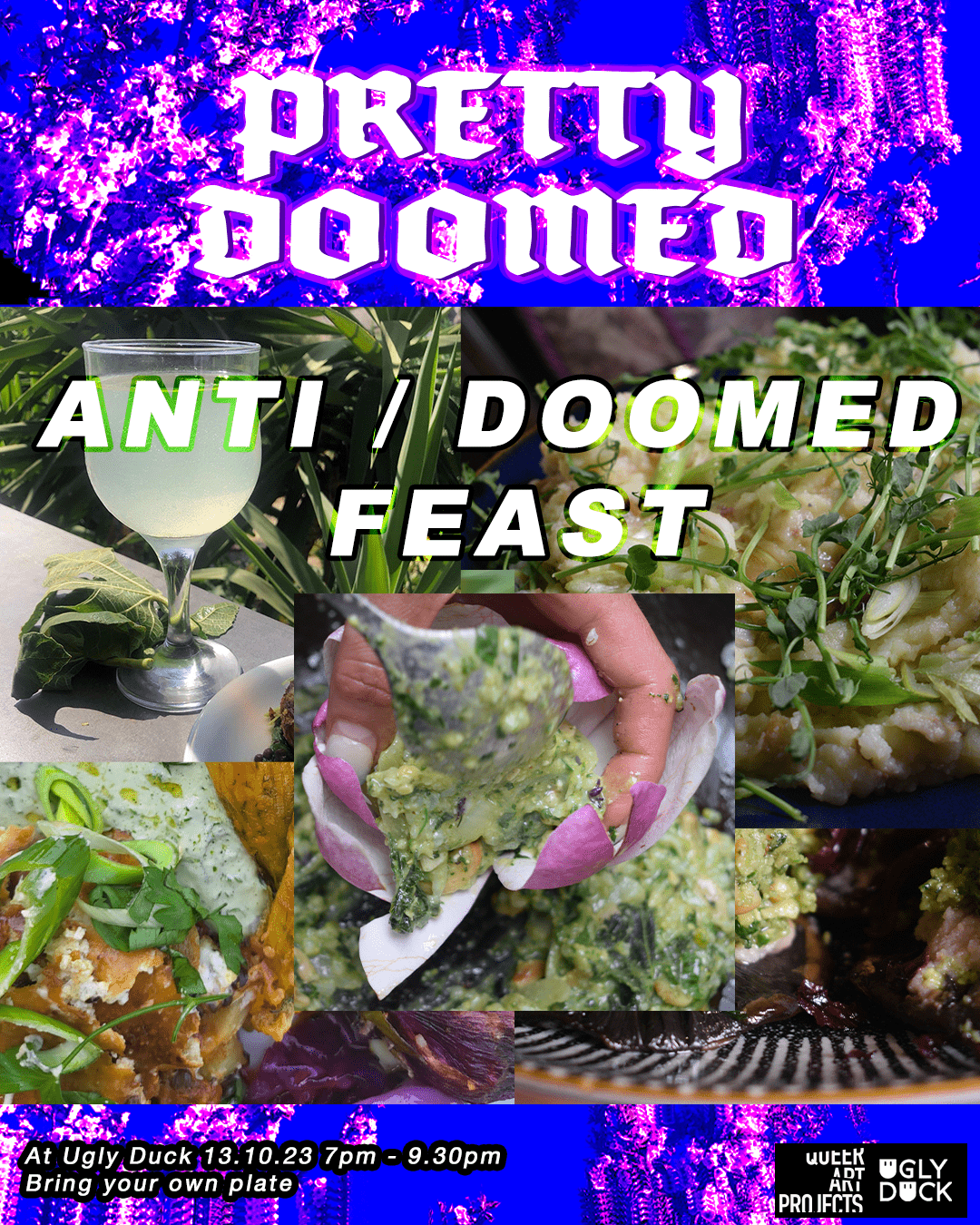 ANTI / DOOMED FEAST MENU
UGLY DUCK 13.10.23
7pm – 9.30pm


This feast invites you to think about the food itself and its origins, culture, history and links to magic and medicine
IMPORTANT INFO: PLEASE BRING YOUR OWN PERSONAL PLATE, CUTLERY AND GLASS
(To avoid using disposable materials)


An intimate feast designed to feed you with vitality, connection, power and resilience. Offerings of different dishes and treats intuitively prepared with foraged ingredients, ferments and medicinal plants that are connected to healing, resistance and queerness – An antidote to doom. All plant-based. 
BB cooks inspired by flavours offered by the different landscapes around her. Wild foraging unique plants seasonally, exploring traditional preserving processes from different cultures, sun pickling, fermentation, sun drying, brewing and playing with different cooking methods are all part of her practice. She works to challenge the boundaries of how we view, understand and experience food.
BB wants to bring pure pleasure and excitement into eating. Paying attention to all aspects of food from sensory explosions to emotion. She treats cooking as art and alchamy. She curates tasting and feasting experiences that go beyond dinning, where interaction and connection with food, our environment and each other are all part of the event.
About Pretty Doomed 
'Pretty Doomed' has emerged from the intricate interplay of various emotions: the feelings of doom, unsustainability, exhaustion, and financial constraint juxtaposed with the sensations of fabulousness, queerness, vitality, and alignment with our core values. Our aim is to scrutinise the sustainability of our art community, explore new economic possibilities, foster mutual support, and extend an invitation to audiences, collectors, and friends to discover artists and their works, potentially making acquisitions. 'Pretty Doomed' will feature a group exhibition in the format of an art fair where each artworks will be on sale and a three-day program of performances, artist talks, discussions, conversations, and film screenings. The program details will be announced shortly on our social media and website.
Ugly Duck is one of the few independent art venues that showcases queer and alternative art in London. Artist-led Queer Art Projects has the only online art gallery dedicated solely to queer art: qap.digital. Together, they have united their creative forces to offer you a glimpse into the world of outsider art during Frieze week.