CALL TO ARMS
22 October 21

-

24 October 21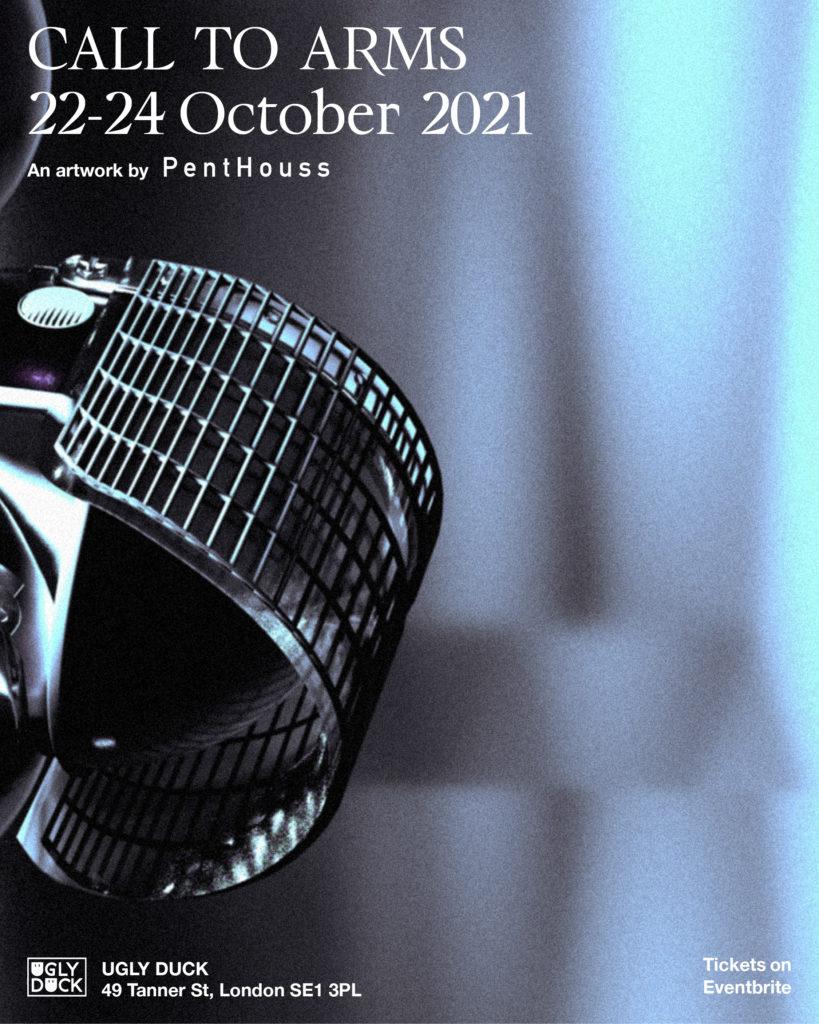 PENTHOUSS PRESENTS A NEW PERFORMANCE WORK CALL TO ARMS EXPLORING THEMES OF POLICING, CONTROL AND GOVERNANCE.
Opening in London in October 2021, CALL TO ARMS is a new immersive artwork by PentHouss that uses dance, sound, light, optical illusion to explore themes of governmental power, control, and social unrest.
PentHouss' artists Anna Lann and Yonathan Trichter, in collaboration with curator Helen Neven and choreographer Ekin Bernay, use performance to convey a direct experience of political mobilisation, appropriating the tools, movements and uniforms used by systems of power themselves. An exposé of the theatrics of order enforcement, CALL TO ARMSreflects on the complex relationship between agents of power and the civilians they supposedly protect; on the instrumentalisation of fear; on the duality of "them" and "us" at street level. Movement is dance; movement is assembly; movement is a call to arms.
► Performances are scheduled throughout 22, 23 and 24 October 2021. Each performance runs for approximately 15 minutes.
► Limited capacity, booking in advance highly recommended. Please arrive at least 5 minutes before your time slot. Tickets on the door subject to availability.
► Please be aware that the performance contains flashing lights. Viewer discretion is advised.
► We ask that audience members wear face masks, unless exempt.
PentHouss
PentHouss is a multidisciplinary art hub producing work that spans performance, sculpture, installation and film, founded by artists Anna Lann and Yonathan Trichter, based in London and Paris. PentHouss' work makes use of surrealistic imagery with PentHouss-produced props, costumes and sets. PentHouss' rich and distinctive visual vocabulary, combined with Lann's scoring, materialise as cinematic and uncanny universes that explore current issues of our own, such as power, technology, mythos, and social ritual.
CALL TO ARMS marks the first time that PentHouss will show their work in London, following displays at Science Gallery Rotterdam, Holon Design Museum, Tel Aviv Museum of Modern Art, MU Eindhoven Museum, Inbal Dance Theatre Tel Aviv, and Jaffa Museum amongst others. www.penthouss.com | @penthouss
Helen Neven
Helen Neven is an independent curator and writer based in London. She was formerly head of research and exhibitions assistant at Blenheim Art Foundation, where she worked closely on large-scale exhibitions by Jenny Holzer, Maurizio Cattelan, Yves Klein, Michelangelo Pistoletto Cecily Brown and Tino Sehgal. Neven has also independently curated a number of exhibitions in London. @helennev
Ekin Bernay
Ekin Bernay is a Turkish performance artist, dance and movement psychotherapist, and movement director based in London. Bernay's work focuses on the healing qualities of performance art and regularly utilises the audience as part of her practice. As a dance therapist, Bernay works in adult mental health and schools. She has recently performed for Tate Modern, London; OnCurating Project Space, Zurich; Performistanbul as part of 16th Istanbul Biennial; and Pera Museum, Istanbul, amongst others. Bernay is represented by Performistanbul. www.ekinbernay.com | @ekinbernay
For all media enquiries, please contact: Helen Neven on +44 (0)7583 187181 or helenlneven@gmail.com