CLUSTER CRAFTS 2022 FAIR
8 July 22 @ 11:00

-

11 July 22 @ 18:00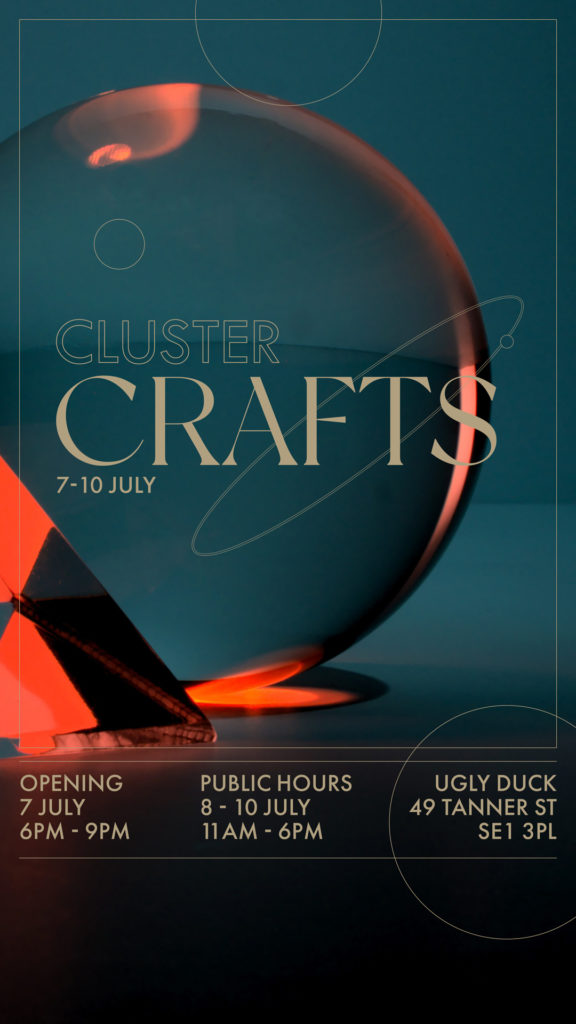 CLUSTER CRAFTS 2022 FAIR
Proud to announce Cluster Crafts 2022 Fair, our first post pandemic Crafts art fair, featuring a physical exhibition of 70+ international artists. Cluster Crafts is officially returning
to the physical realm after a long and fruitful virtual season. After our last in-person Crafts Fair in 2019, Cluster is returning to London in Spring 2022 with a focus on Glass & Movement, celebrating the United Nations International Year of Glass 2022. The fair seeks to platform young, emerging designers working within all mediums of craft and challenge the boundaries between craft, design, sculpture and Fine Art.
One central part of our fair will be dedicated to honouring the intricate craft of glassblowing and highlighting its connection to physical movement in terms of its different techniques. We will be showcasing a range of emerging artists working with this versatile medium in a variety of striking, experimental and unique ways, representing the full breadth and richness of contemporary glass craft. Alongside this, Cluster Crafts 2022 will also be displaying works in other mediums such as ceramics, wood, metal and more, which bear an imprint of motion and of the body through a highly physical, often laborious and therefore particularly intimate process of creation.
Abandoning the gallery-based model of traditional art fairs, Cluster pioneers in direct representation, working with artists and cutting out middlemen. Unfiltered, our connection to artists permits an intimate engagement making the fair not only a place to sell but a location for development and camaraderie. The event will take place at the atmospheric Ugly Duck warehouse – historically, it was a Victorian tannery and many original features still remain to this day.
We hand-picked each of the participating artists, making sure the whole professional spectrum is represented – already acclaimed and established names, emerging artists, award-winning craftsmen and fresh graduates. They will be coming to London for an exclusive, one-of-a-kind Crafts fair to make their statements.For each edition of Cluster, we strive towards new ground, we find new talent, we create new experiences and we make new opportunities. Join us on this voyage as we come together forging an innovative pathway through the creative landscape of the Twenty-First Century.
Opening Night 7th July | 6:00PM – 9:00PM
Opening Times: 8th – 10th July 11:00AM – 6:00PM