COLLIDE THEATER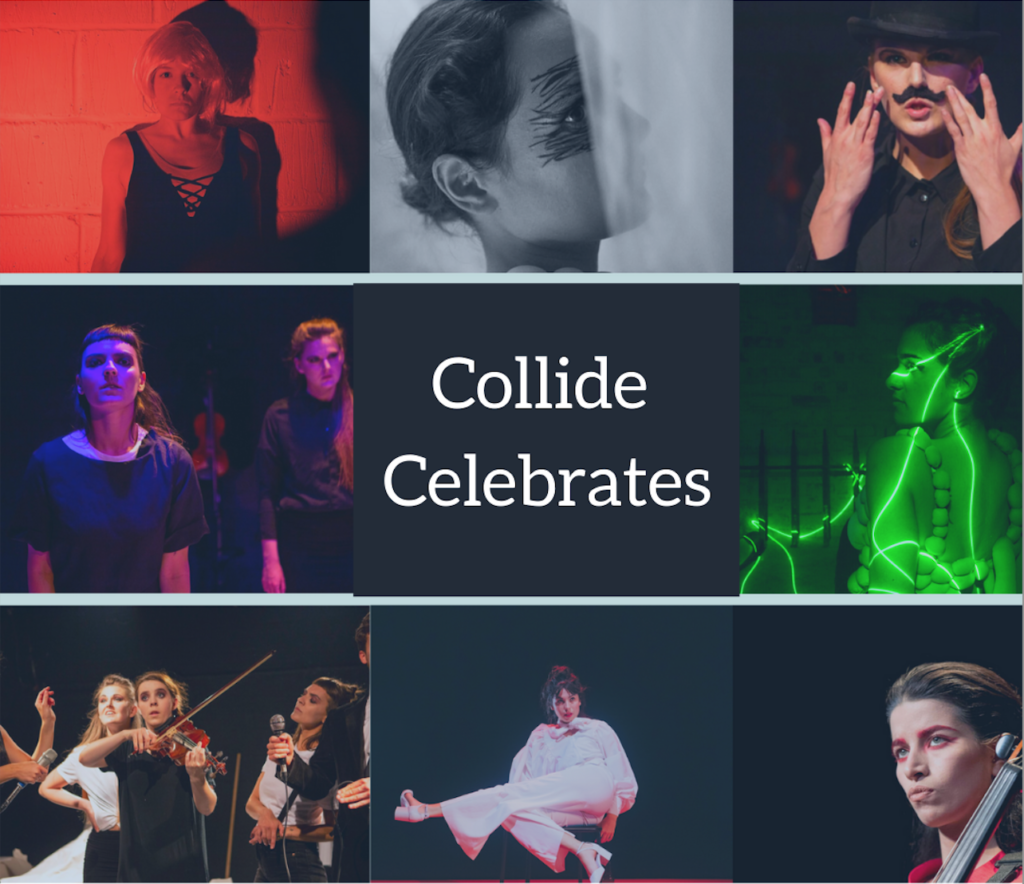 COLLIDE THEATER CELEBRATES
Collide Theatre is turning 7 years old and is celebrating with lots of live events! We are inviting an exciting emerging company to create two pieces in the very same space where Collide created their iconic HAMLETMACHINE.
Join us for a weekend of celebration, live music, theatre and visual art.

1. PSYCHONAUT – Live Art exhibition (Saturday / open from 2pm to 4pm / durational piece) in the Garage – £5
Psychonaut is the first performance exhibition by Psychonaut Theatre, which invites the audience into a highly visual exploration of identity. The exhibition features six original pieces by the collective's individual artists, exploring themes such as sexuality, gender idenity, abusive parenthood, feminism, neuroatypicality and social politics, with the work taking the form of different mediums, including live durational performance, short film and installation. On entering the space, one is free to wander around and explore a range of different artistic approaches to identity, and in some cases they are even invited to interact with the performers.
2. MUMS – Performance (Friday at 7.30pm & Saturday at 5.30pm) in the Garage / £10
a wonderful tragic family
a bubble
grief
waiting
They thought this moment would change everything. But does it?
Mums is a poetic and delicate look into the state of grieving, following one family in their attempt to adjust to a new reality. Inspired by Jean Luc-Lagarce's play J'étais dans ma maison et j'attendais que la pluie vienne, the piece is a collage of different original texts, songs and movement, interwoven and devised by the company. In this new site-specific version, developed in response to Ugly Duck, the five performers take the audience on a journey through the characters' grief, asking what pain is and inviting them to deepen their awareness of this universal state.
3. Collide Celebrates – Event with Live Music in the Garage (Saturday 7.30pm) / £15
Collide is a female-led theatre company based in London. Formed by director Emily Louizou in May 2015, Collide's mission is to make highly visual performances which merge storytelling with dance and live music. Since their inception, they have created five sold-out performances which have received stellar reviews by audiences and critics, alike. Collide has also been named as "one of the ten most promising companies to watch" in 2019-2020 by the New Diorama Theatre in London. They embrace London as their basis and cultural hub, but they draw inspiration from their varied European backgrounds. They are fuelled by a need to create theatre for an audience who is willing to come on a journey with them, questioning preconceived ideas, and confronting the challenging aspects of human nature. Deeply grounded in their belief in equality, human fragility and tolerance, Collide fosters an environment where creative individuals from all disciplines can 'collide'.
After two successful site-specific and promenade performances at Ugly Duck's warehouse (Hamletmachine in 2016, and Tejas Verdes in 2017), Collide returns to Tanner Street for one night only to celebrate what a roller-coaster these past 7 years have been. Join a great line up of artists who will perform a selection from Collide's old and new work, inviting everyone on a night dedicated to the importance of live performance.
About Psychonaut Theatre
Psychonaut Theatre is an emerging intermedial, multidisciplinary collective, consisting of six individual artists and theatre-makers, all graduating from BA Acting and Performance at Wimbledon College of Arts, UAL. Their work covers a range of disciplines, with each of the artists having their own unique styles, skills, interests, and cultural and training backgrounds. As a company, they aim to combine these elements to create original and experimental contemporary performance that often asks questions about the nature of theatre as a live art form. In collaboration, their work always puts their artists first, striving to ensure the representation of each of their members in their work.