DEAR YOUNG MONSTER
20 September 21 @ 19:00

-

21:00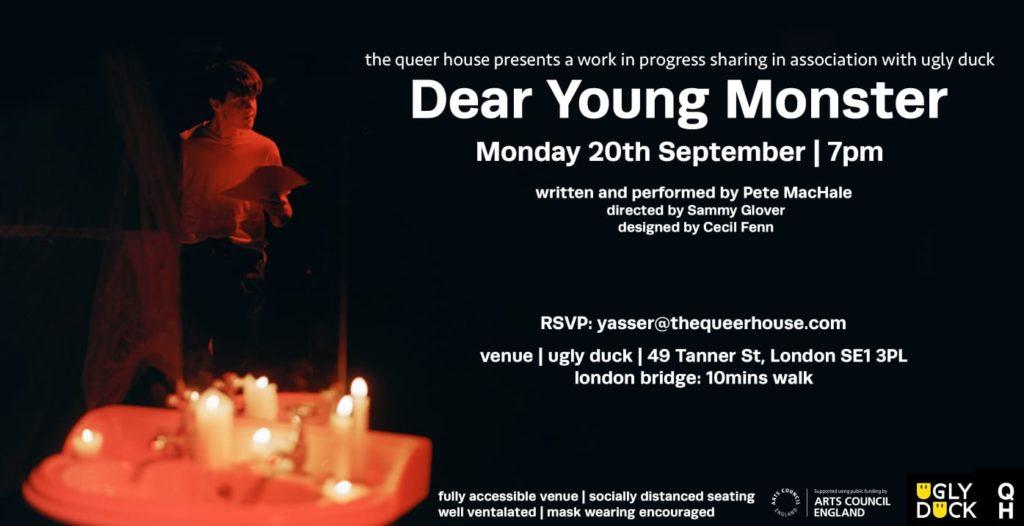 THE QUEER HOUSE PRESENTS IN ASSOCIATION WITH UGLY DUCK: DEAR YOUNG MONSTER (WORK IN PROGRESS SHARING)
Written and performed by Pete Machale
Directed by Sammy Glover
Designed by Cecil Fenn
The monster didn't make the film. He's not the one telling his story. I see that in that scene… the monster can't win."
Pete is the only trans person for miles, and it feels like everywhere he looks there's something to be scared of. Like the entire world is full of monsters. Doctors, drunk lads and sniffy mums hide around every corner ready to pounce and chase you home, and with danger at every turn sometimes the best option is to puff up your chest and become something bigger, meaner, and scarier.
A sincere, silly, sometimes spooky show for weirdos who feel like they're the only one in the world. Following a young trans man as he navigates his changing body through a small town packed with people who are more likely to be foe than ally. Dear Young Monster by Pete MacHale asks what it means to embrace being the monster that the world keeps telling you that you are.
Dear Young Monster is currently in its research and development stages, kindly supported by Arts Council England.
Drinks and music will be provided afterwards
____________________________________________________________________________
The venue is fully accessible. Wearing masks encouraged.
____________________________________________________________________________
About The Queer House:
The Queer House is an artists' agency and producing house for LGBTIQ+ actors, writers and makers. They are an associate company at the Gate Theatre and HighTide. The Queer House debut double bill of shows premiered at the Edinburgh Festival Fringe as part of the HighTide/Assembly Disruption Festival 2019 and were included in the Guardian top picks and the Stage 18 best shows of the fringe. Their successful GET IN THE HOUSE scratch event has been at the Bush, the Yard and Omnibus Theatre.