@DISTURBANCE
10 November 22

-

12 November 22

5£ – 10£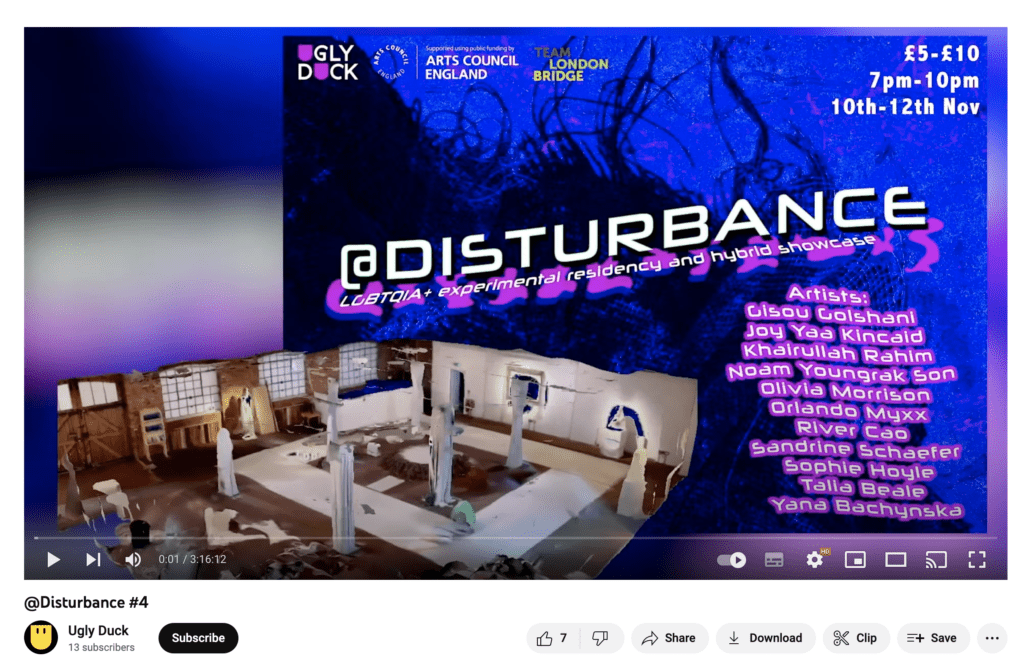 Ugly Duck Bermondsey is excited to announce the return of @Disturbance this November. A flagship programme championing LGBTQIA+ performance, video and digital artists, @Disturbance hosts a week-long residency culminating in two nights of public performances on November 10 & 12. A simultaneous high-quality livestream enables those outside London and unable to travel to experience @Disturbance in full effect. It is key for Ugly Duck to encourage accessibility and support radical, diverse, queer artists. @Disturbance is set to be as brave and breathtaking as previous programmes, all of which have sold out and featured artists from all over the world. 
Creative Director of Ugly Duck and founder of @Disturbance Deen Atger says: "At @Disturbance we find and nurture the talents of tomorrow. Bold and forward-thinking artists deconstructing boundaries and paving the way for totally new aesthetics. Each year @Disturbance gets bigger and we're excited to welcome new artists into our growing network". 
Ugly Duck is currently celebrating a decade of revitalising underused buildings and supporting marginalised artists. Established in October 2012, the organisation has transformed a spacious, empty Victorian warehouse in SE1 into a thriving, creative hub. Over 1500 significant artists and arts collectives have collaborated with Ugly Duck over the past 10 years. 
About @Disturbance 2022 artists: 
Gisou Golshani is a London-based Iranian artist. Their work depicts abstract narratives from seemingly disparate elements. Through multilayered editing and playful uses of sampling, they investigate the intimacy of the voice, the effects of sound on the body and their mother tongue Farsi's complexities in translation. Looking into archival found material, Gisou will create a multi-sensory, immersive installation and performance at @Disturbance. Previous work has been shown at Nottingham's New Art Exchange, Mimosa House, London and internationally including their home country. 
Joy Yaa Kincaid is a London-based multidisciplinary artist. Intersectionality is a focus of their work which at @Disturbance will encompass both performance and video art. Centered on presenting worldly and political truths of contradiction, randomness and beautiful messiness, they view themselves as a mirror reflecting multiplicities of gender and culture in addition to the many absurdities of whiteness. Joy is an exciting new talent who @Disturbance hope will soon be on the cultural radar of both arts organisations and audiences. 
River Cao is a moving image and performance artist originally from China now London based. Their intriguing work is created from the act of mourning, with an emphasis on the return of the revenants. In folklore, a revenant is an animated corpse believed to have been revived from death to haunt the living. Revisiting their marginalised queer experience of growing up in the small town landscape of southern China, they will create a series of self-narrative spaces at @Disturbance, to rethink the emotions of grief. River has previously presented work at the Saatchi Gallery, ICA London, Beijing's Joy Museum and Cologne's Museum Ludvic.  
Khairullah Rahim is an interdisciplinary artist based in Singapore. He works across installation, painting, photography and moving image. For @Disturbance, Khairullah presents the UK debut of their short art film Buah Dahsyat (Fantastic Fruits). His research looks into strategies of resourcefulness for survival in environments under surveillance. Khairullah's works have been shown extensively all over the world. The Barbican in London, Millepiani in Rome and the Tiger Strikes Asteroid New York location have all played host alongside many other international arts spaces ad galleries.  
Noam Youngrak Son is a queer artist based in Ghent (Belgium). Noam presents Yummy Body Truck, a video work about a fictional food truck selling edible human body parts. In their practice they attempt to convey stories of marginalised bodies which often include themselves into designed forms that don't conform to the cis/heteronormative and colonial power structures. Noam has previously shown work with the Queer Institute of Ecology in Amsterdam. This November, @Disturbance presents their work in the UK for the first time. 
Olivia Morrison is a video artist who presents new work Hug Me Properly, in which she follows the lives of a young, queer community on a night out. They discuss how their loved ones and lives during the pandemic have changed and how their community is more important than ever. Being a queer disabled filmmaker, Olivia has a distinct focus on these themes. Olivia was recently on the Feature Film Jury for Iris Prize, an international LGBTQ+ Film Festival and past work includes Cyber Sex, a documentary giving a platform to digital sex workers. Their short film Révérence, tackled themes such as Mental Health, Class and LGBTQ+ rights. 
Sandrine Schaefer is a video artist. Their practice is frequently presented as performance art installation work that challenges conventional viewing by using repetition, duration and multisensory elements to enrich the curious viewer. @Disturbance will show a new performance specifically made for camera titled Simple Relations No. 4. They recently relocated from Boston, Massachusetts to South Carolina in the United States. @Disturbance is excited to profile their first American artist who has extensively shown work in Chicago as well as throughout the United States. 
Orlando Myxx is an Italian-born London-based multidisciplinary artist whose practice encompasses photography, film-making and performance. As a non-binary trans-masculine person, they mainly focus on the exploration of transness as a mental, physical and cultural experience. Myxx explores how gender non-conforming people are not only questioning the gender norms but are actively opening up awareness and opportunities gender subjectivities and for a cultural change. They will be presenting their film The Plastic Drag, a visual and sound work that investigates how a new wave of underrepresented gender-non-conforming and diverse drag artists are redefining the art of drag and its subversive potential. 
Sophie Hoyle is a video artist exploring post-colonial, queer, feminist, critical psychiatry and disability. They relate personal experiences of being queer, non-binary and part of the SWANA (South-West Asian and North African) diaspora to wider forms of structural violence. They will be showing Hyperacusis at @Disturbance: Two films about mental health, trauma, gender and sexuality, access to healthcare and transcultural psychiatry. As well, intergenerational impacts of racism, colonialism and other socioeconomic inequalities are highlighted in Sophie's work. Sophie has previously shown work at the Baltic Centre for Contemporary Art Newcastle, London's Science Gallery and the Arnolfini, Bristol as well as internationally, as far afield as Berlin, France and Mexico. 
Talia Beale is originally from London. Their practice, which includes film, music and more dissects the process of society's inner dichotomy via storytelling. This is created through the lens of a queer woman of colour navigating her twenties, existing in spaces such as Central Saint Martins when their home is a block of flats in Tottenham. For @Disturbance Talia presents To Trudge in Zundon exploring how film making could subvert ideas about housing estates and address new voices, specifically creative, queer kids who live in blocks of flats. Talia has collaborated with fashion designer Charles Jeffrey, musicians Obongjayar and Cruel Santino plus creative organisations who are platforming young artists. Talia's music has been presented at the likes of Roundhouse, seminal London  music venue 100 Club, Tate, PxssyPalace and more. 
For press inquiries, contact Anna Goodman on 07976247026 abstrakt@abstraktpublicity.co.uk