Do You Buy This
3 August @ 18:00

-

6 August @ 18:00

Free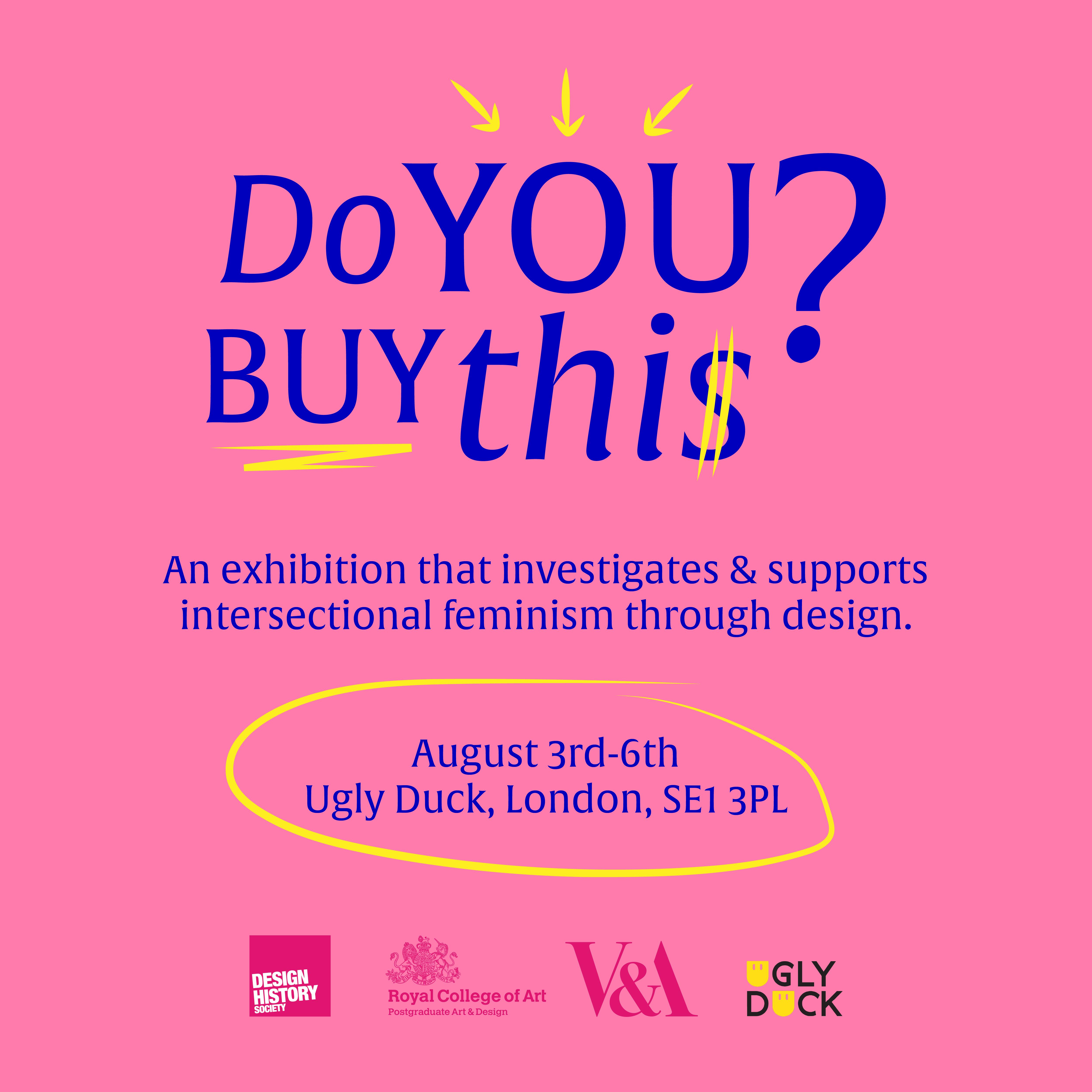 Do You Buy This
Do You Buy This? showcases commodified feminist objects, considering the duality between critiquing corporate cooption and supporting feminist practice. We look forward to welcoming audiences to explore the complexities of operating in a capitalist system, exercising our spending power in feminist ways.
We are exhibiting commodities that have been produced in corporate environments, alongside works created by independent artists. All works have been sold or are intended for sale and all explore feminism, especially the intersectional focus of its fourth wave.
Students of the History of Design MA Programme at the Victoria & Albert Museum and the Royal College of Art (Amber Kim, Cas Bradbeer, Sufiyeh Hadian and Zarna Hart) have curated this showcase, selecting a broad range of commodified fourth-wave feminist objects made from 2012 to the present day.
"Our aim as curators is to explore financially supporting feminist practice while remaining critical of the capitalist commodification of feminism. We invite our visitors to engage with this discourse"
Zarna Hart, Cas Bradbeer, Sufiyeh Hadian and Amber Kim
Housed at Ugly Duck, on the ground floor of their Victorian warehouse, the exhibition will further their commitment to support under-represented voices and emerging artists.
– 3rd August, 6-9pm – Private View
– 4th August, 12-8pm – Open, including a Curators' Tour
– 5th August, 12-8pm – Open, including a zine workshop with Holly Casio
– 6th August, 12-6pm – Open, including a tile painting workshop with Rebecca Wise
Visit www.doyoubuythis.com for more information, or contact doyoubuythis@gmail.com
This exhibition has been developed with the support of Ugly Duck. It is funded by the History of Design MA's Student-Led Project Fund, in addition to the Design History Society's Research Exhibition Grant.