Saltwater by Matisse Ciel – Residency & Sharing
26 October 22 @ 19:00

-

21:30

5£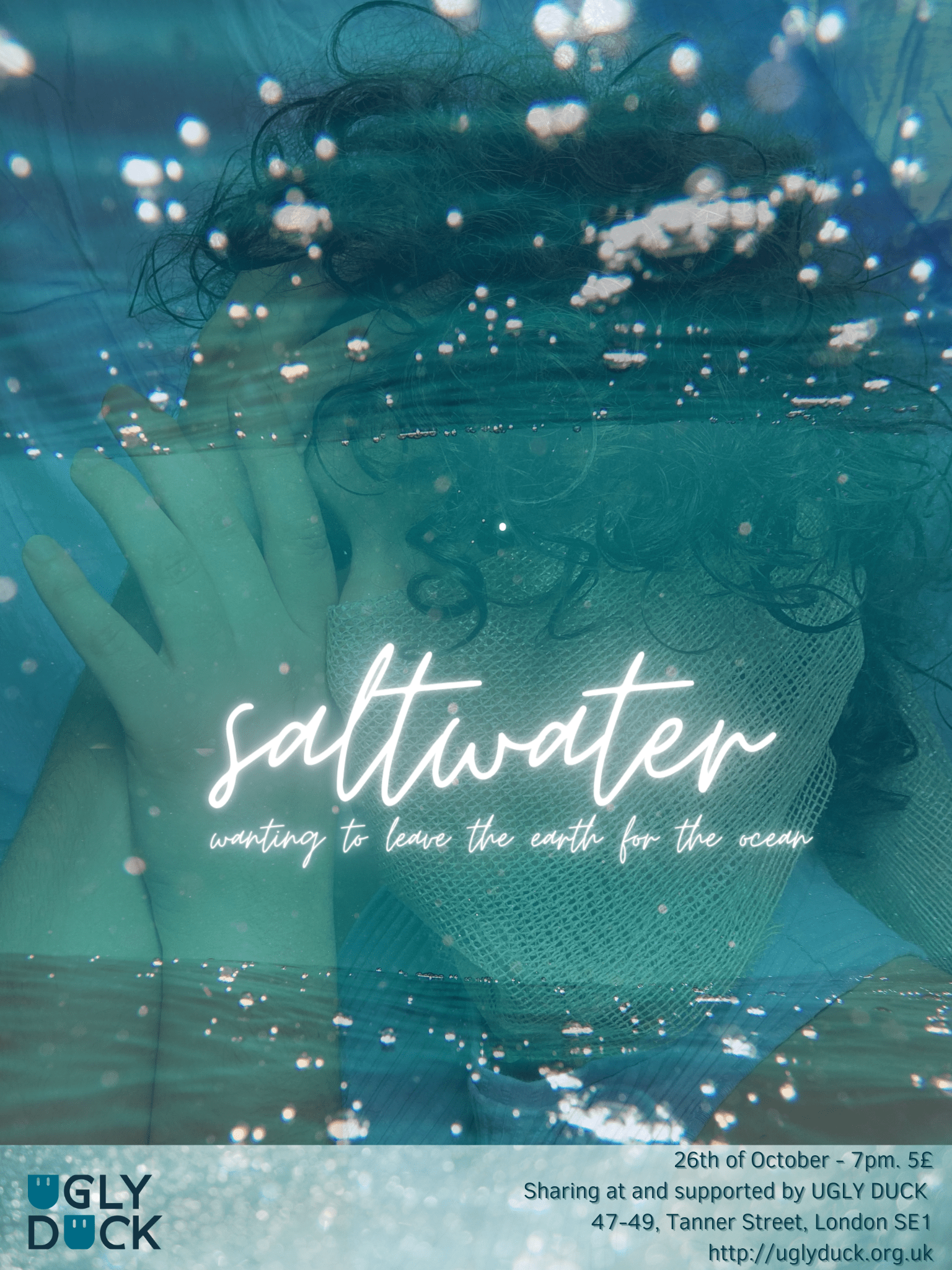 Saltwater is an eternal work in progress –  a whirling, reversed and broken little mermaid tale : the journey of wanting to leave the earth for the ocean.
Saltwater is a haven, a refuge from earthly matters. a place that can hold grief, where we are allowed to explore the aliveness of death and everything that hurts too much for humans.
Water is the primal memory holder, it never forgets. underwater, the deities and the monsters breathe.
Merpersons are hybrid creatures that humans are scared of listening to, as they will lead them to drown in saltwater. in this solo, a merperson invites the audience into their liminal space to witness their relationship with saltwater; water which carries the voices which are always just under the surface.
saltwater is an act of rebirth, another chance. the merperson offers the audience a moment to hold space for the unbearable, so that maybe, by the end, everyone feels closer to life.
Tn earthly terms, it is a solo that combines dance-theatre with poetry, cabaret and ritual practices weaved in with an oceanic live score designed and performed by Yuki Marin Nakayama. (@shinjuku.boy)
Bio
Matisse Ciel conjures oceanic poems and deities on small stages. They are living in between words, in between genders and in between the earth and the sea. Matisse believes that every artist is a ceremony holder and every piece of art is a ritual. They are convinced that our tears are saltwater as a remnant from our underwater origins and are on a quest to help us remember.
On earth, Matisse is a white, trans and genderfluid, neurodivergent and disabled, multi-disciplinary performer. They just received a DYCP grant to develop work around their concept of 'saltwater'. The research is focused on creating pieces that serve as memoirs for living trans people, producing content based on real life material. It explores what happens when the silenced stories in our bodies and histories are retrieved, owned and told.
Collaborating with a network of trans artists across disciplines, they are creating a hybrid method for working with gender non conforming performers that aims to challenge the extractive nature of devising and centre healing and creative processes. All this to prepare the making of a large-scale version of saltwater with a chorus of trans artists, waving and crashing their stories together.