Dwelling on the cloud
24 November 22 @ 17:00

-

27 November 22 @ 21:00

Free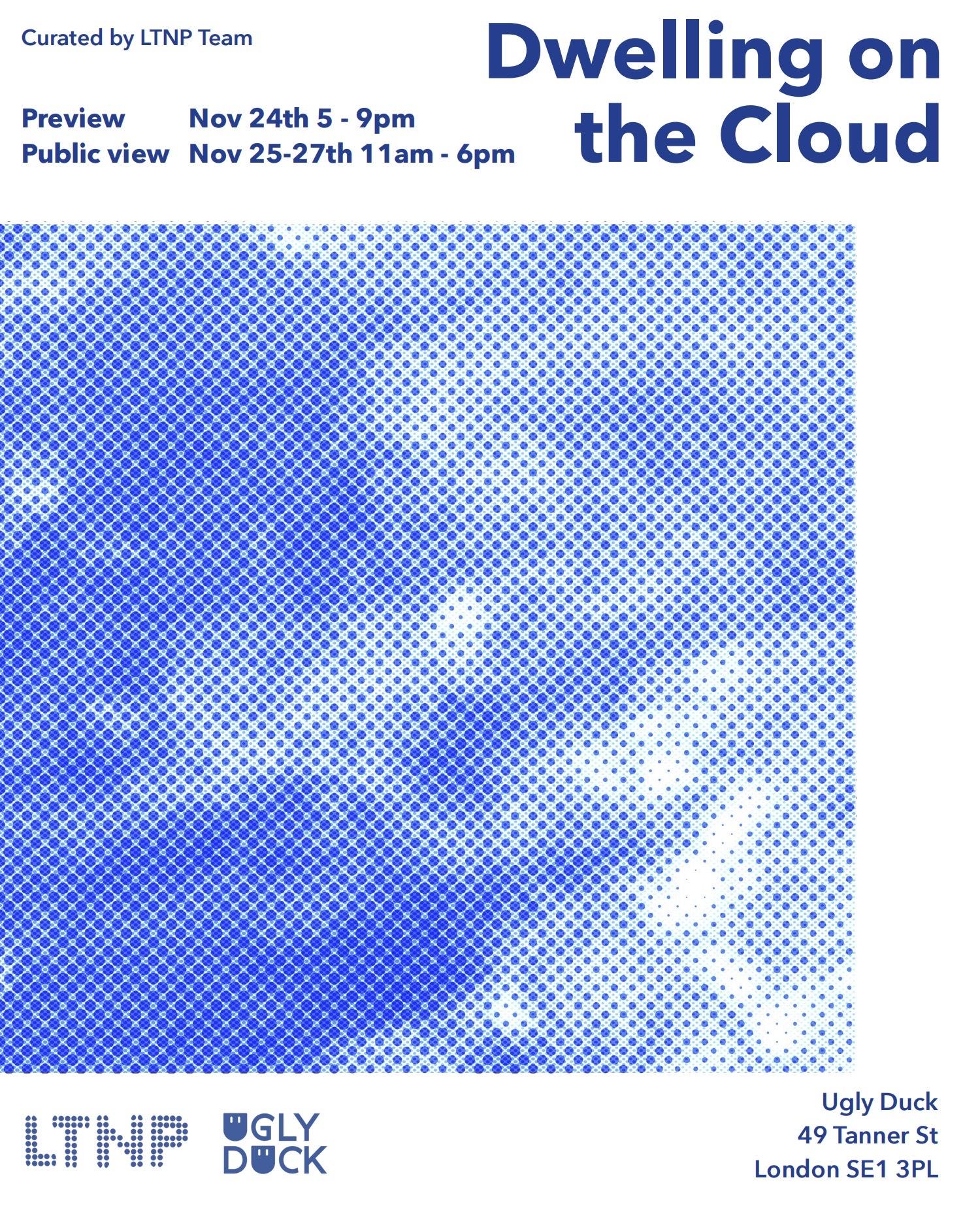 LTNP is pleased to present the exhibition, Dwelling on the Cloud, grouping 22 artists using cloud as a clue to question our contemporary life under the fast-changing process of modernisation and to explore the possibility in creating a poetic world to live in. The exhibition takes audiences through a journey via three chapters of Dwelling Poetically, The Arrival of Rationality, and The Expulsion of the Other.
Artists (in alphabetical order):
Alex Long Yuan
Analu Cunha
Benedict Seymour
Charles Nyiha
David Koh
Duong Thuy Nguyen
Haoyu Ye
Hyemin Gil
Jiao Shi
Lam Pok Yin
Laureta Hajrullahu
Marcia Thompson
Paul Stephenson
Sai Li
Tete de Alencar & Felipe Vasconcellos
Xun Chen
Xinran Liu
Yen-Hsu Chou
Yilin Zhang
Yuying Huang
Zishi Han
About:
When was the last time you looked up into the sky at the clouds?
When you gaze up at the clouds, your eyes may draw you into a moment of silent contemplation: have you ever allowed yourself to wander around in the sky? The poet Friedrich Hölderlin declares: "full of merit, yet poetically, man dwells on this earth". When we gaze at the clouds, we get a chance to fly away from earthly and worldly affairs. It becomes possible to poetically dwell on the cloud.
As an essential object of observation and analysis, clouds have never been absent from the development of meteorology nor the wider process of modernisation. The need of higher accuracy in weather prediction yielded both the invention of new instruments which were then been adopted in many other areas including wars, and the advancement of computer programming which laid the foundation of the development of cloud computing today. This exhibition uses cloud as a clue to contemporary life and its contradictions, tracking it as we move, with the rapid development of science and technology, from cloud (formation) as object of research to cloud (computing) as a social reality vast in its scope.
Today, the term "cloud" has become a central metaphor of the networked world — a global infrastructure that captures and retains critical masses data, an all-encompassing and borderless domain. Cloud-facilitated social networking gradually subsumes every moment of our lives. Even as it brings us together in new and virtual forms, the closed space constructed by the cloud may gradually separate us from other people. Information cocoons, echo chambers… We slip into a world where there are only similarities but no differences. In a world full of what philosopher yung-Chul Han described as "the Violence of the Same", we fall into a state of deep loneliness arising from the loss of the Other per se. We connect in the cloud, but are separated from the Other.
When will we step out of the clouds, return to earth, and dwell poetically again?
————————————————————————————————————-
Preview: 24 th November, 2022, 5pm – 9pm
Public View: 25 th – 27 th November, 2022, 11am – 6pm
Location: Ugly Duck, 47-49 Tanner Street, SE1 3PL
Entry Fee: Free