DE-ORIENTED
21 April 22

-

24 April 22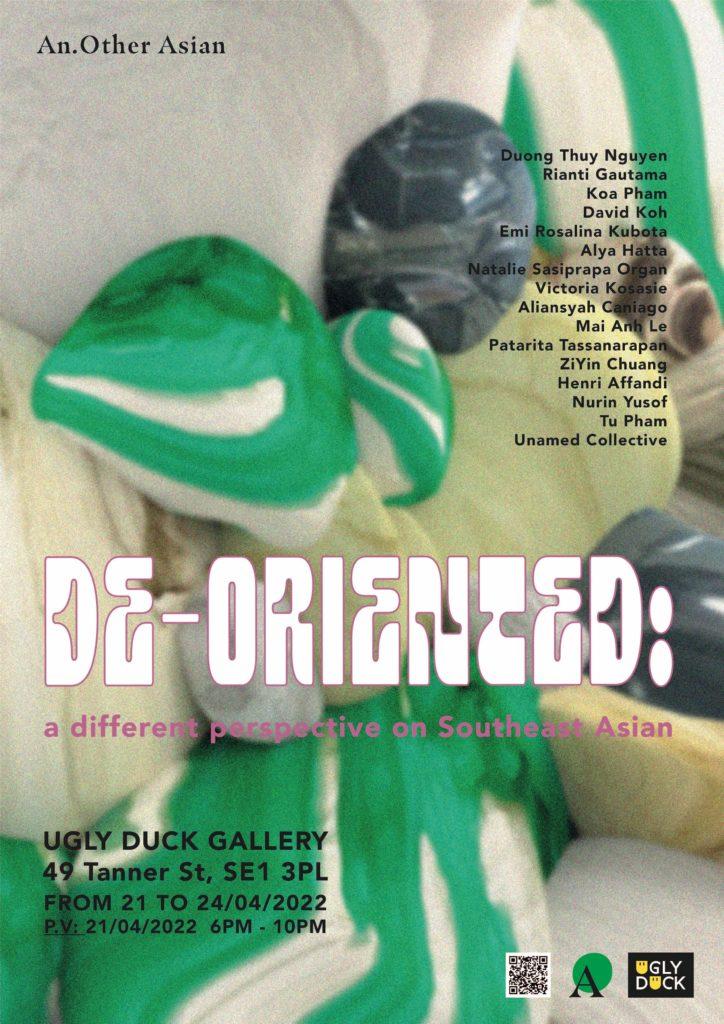 THE DE-ORIENTED EXHIBITION WILL FEATURE EMERGING SOUTHEAST ASIAN ARTISTS LIVING AND WORKING IN LONDON
The aim of the exhibition is to challenge stereotypes and misunderstandings of Southeast Asia.
There are common misconceptions surrounding Southeast Asian countries and cultures within the UK, where the image of white palm-lined beaches often mask the tumultuous political and social reality. Today, Southeast Asian nations are on the frontline of the climate emergency, facing political unrest and outdated gender roles. They are also, however, a place where so many call home. Though the exhibition will aim to draw attention to stigmas around Southeast Asian cultures, it will take a light hearted and humorous approach to the subject matter.
Taking place in the Bermondsey's 'Ugly Duck' on 49 Tanner Street, the exhibition will be a collaboration of Central Saint Martins students and alumni as well as unaffiliated London-based artists of Southeast Asian heritage, showcasing the works ranging from illustrations, films to installation, and performance.
We believe that a range of mixed practices can open up conversation and an exchange of ideas for all communities. It is our hope that the work on show within this exhibition will inspire openness to visitors.
Exhibition De-Oriented will culminate in the launch of the An.other Asian (AOA), an artist-led collective. The goal of AOA is to create a safe space for all Southeast Asian artists to foster and present ideas. Ultimately, AOA aims to create an open platform for artistic and cultural exchanges among artists, cultural workers, and intellectuals from different backgrounds through activities such as exhibitions, showcases, workshops, film screenings, art talks, and discussions.