SECOND SKIN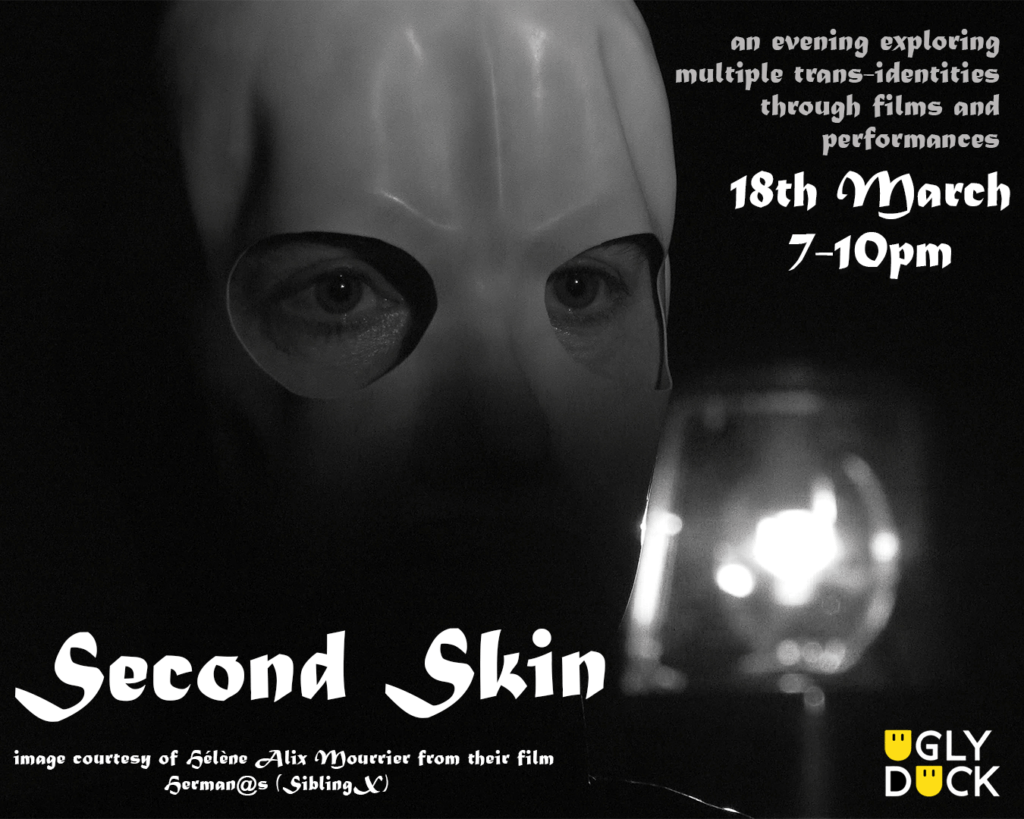 AN EVENING EXPLORING MULTIPLE TRANS-IDENTITIES THROUGH FILMS, PERFORMANCES AND DISCUSSIONS
Ugly Duck is incredibly proud to invite Hélène Alix Mourrier to present their latest film HERMAN@S (SiblingX) for the first time in London at Ugly Duck.
Films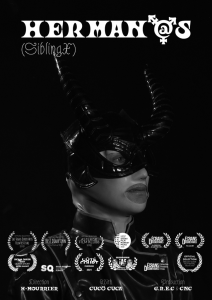 HERMAN@S (SiblingX) – 28 min
One night in Mexico in October 2011, a dream of a mysterious and prescient bird inspired a manifesto, written in one breath. It gave birth to Cuco, a transgender latex pirate. Cuco first appeared one December night in a club in France. But, Cuco is not just a simple night owl. By coming up against transphobia and the state of emergency, they begin to ally themselves with other lives left behind. HERMAN@S follows this little knight of night and day through every event they create as they try to form of recognition and resistance with those they calls mis hermanas, mis hermanos.
Intimate Thread – 16 min
Intimate Threads is a joint performance across continents. Bunny Cadag embodies the precolonial figure of a Babaylan (shamans in the pre-colonial Philippines) channeling the spirit of the Snake Woman, the offspring of the mythopoetic practice of Niya B.
Defying the colonial patriarchal narratives, the artists co-inhabit a space of possibilities for trans species and trans cultural entanglements to create a storytelling, that is inclusive of the plurality of gender and of non-human species.
Performances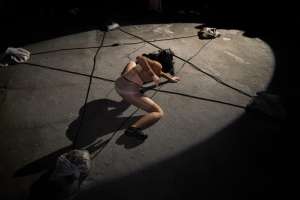 CYBITCH (becoming a cyborg bitch) – Hélène Alix Mourrier
CYBITCH is a performance that takes the figure of the BITCH, as a figure to invest and to live as, to rethink the assignments, the hindrances, the empowerment and the affective acts that resource our bodies and our struggles. The proposal is based on radical feminist texts from the 70's (SCUM Manifesto by Valerie Solanas and BITCH Manifesto by Joreen) mixed with personal writings to create an explosive cut-up technique with an intimate and viral texture that gives power to make the private, political. BITCH uses the practice of clubbing in order to reverse the relation of forces, the glances, to join in the common space of bodies which form together to create alliances.
Because BITCH is unleashed, BITCH wants to get off, between them and with the whole Universe.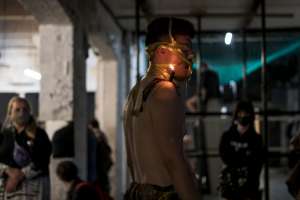 Joseph Morgan Schofield
Joseph Morgan Schofield (b. 1993, Rochdale, UK) uses performance, moving image, writing and curation to create 'queer ritual action'. This action explores desire, grief, ecology and the wilding of queer and trans* futurity. Their practice is relational, emerging through encounters between the sweating, wanting, sensate non-binary body and a host of human/other-than agents.