It's Always Ourselves We Find In The Sea
19 July @ 18:00

-

23 July @ 17:00

free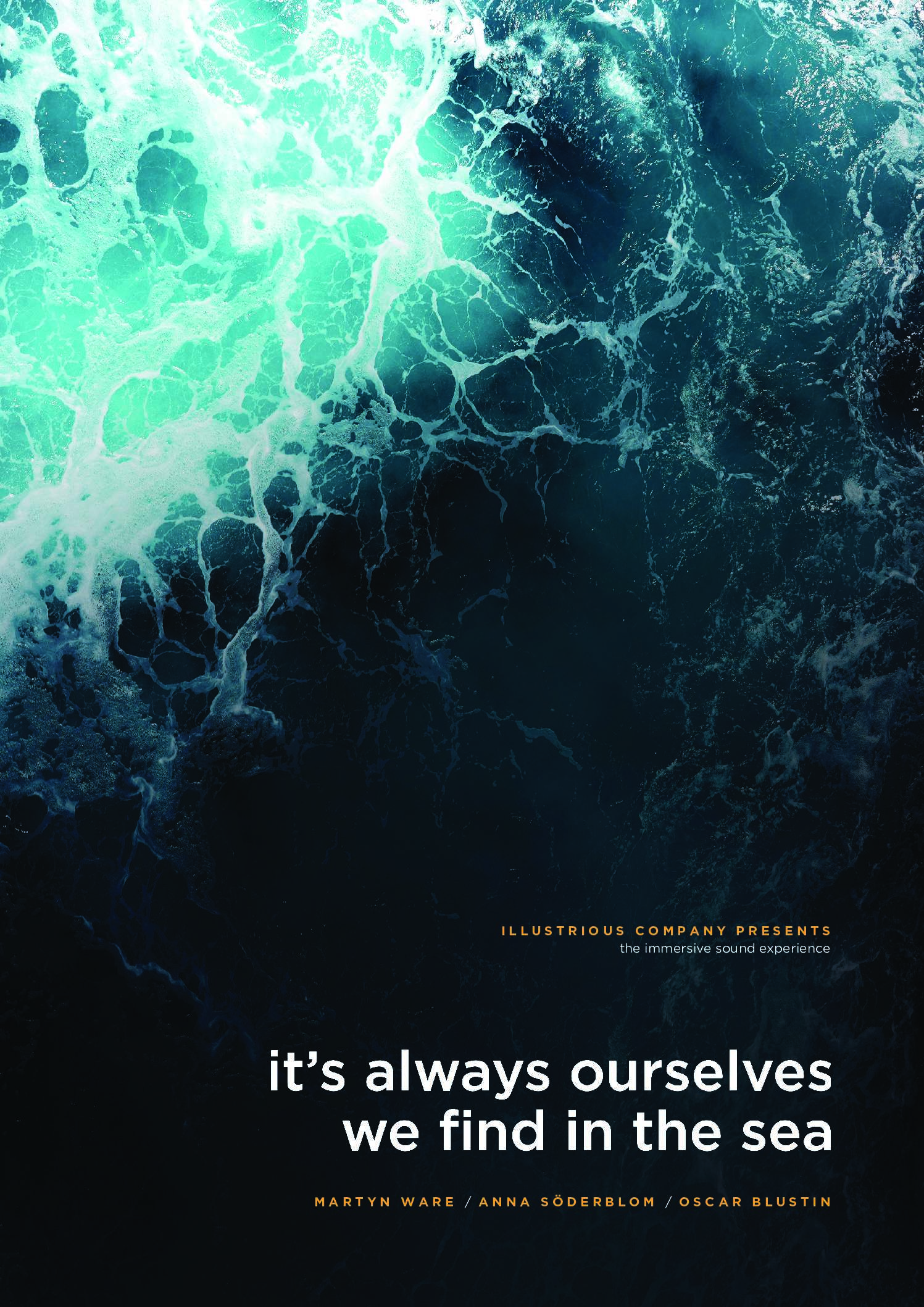 From the 19 to the 23th Ugly Duck welcome two projects in their victorian factory, Dolls by John Lee Bird and It's Always Ourselves We Find In The Sea by Illustrious Company.  

More info below

It's Always Ourselves We Find In The Sea
Created by world-renowned musician and music producer Martyn Ware, composer Gabriel Ware, and immersive storytellers Oscar Blustin and Anna Söderblom, It's Always Ourselves We Find In The Sea is a captivating and thought-provoking sound and art installation, an exploration of the waters of the earth and how the power of water binds all of humanity together. 
Martyn Ware says, "We invite visitors to step away from the busy streets of London and enjoy a moment of contemplation and reflection in an oasis of calm. The climate crisis is one of the biggest threats to our planet right now, and thinking about it can create fear and anxiety that leads to paralysis; we designed 'It's Always Ourselves' to remind each other that as well as a potential source of danger, water is essential to life on earth, infinitely precious to every living creature today and to every human culture that has ever existed. The installation asks us to look beyond our framings of division to understand that it is only by viewing ourselves as part of a planet-wide ecosystem, culturally as well as geographically, can we begin to act as responsible stewards of our world. Our shared collective mythology of water should propel us towards a shared collective response in the face of the rising seas."
The installation's immersive soundscape has been created using Ware's Illustrious Company specialist ambisonic technology. He founded the company together with Vince Clarke in 2000, to develop new forms of spatialised sound composition using three dimensional surround sound
systems. 'It's Always Ourselves' is the latest in a line of over seventy international projects that Illustrious has created. 
BACKGROUND
Martyn Ware met Blustin and Söderblom in Venice, in the aftermath of the record-breaking November 2019 flooding that devastated parts of the city. "Venetians have dealt with acqua alta flooding for thousands of years, it has always been a part of life in the lagoon," says Blustin, "But there is a noticeable, inarguable increase in the frequency of these events." Since 1872, when records began, Venice's seasonal flooding has exceeded 140cm 25 times – and two thirds of these instances have occurred in the last 20 years.
"In moments like these, you see a city or a community pull together. Students came out in huge numbers and formed human chains to pass books out of flooded libraries to higher ground, anyone with functioning electricity offered phone charging for those without, cafes and bars handed out coffee to everyone wading by – it was incredibly moving to see how much this city means to people, and how quickly and whole-heartedly a community can collectively respond to a crisis."
"We met in an old tobacco warehouse on the Grand Canal, the Fondaco Marcello," says Ware. "The walls were still drying and you could see the damage the flooding had caused. We wanted to create an experience exploring our relationship with water – that it's both essential to all life on Earth, but increasingly a threat to so many peoples and places."
Söderblom says, "The coverage of the flooding in Venice focused on the disaster, the damage and the inevitable cost of repairs. But our experience of living through it was more nuanced – the collective resolve of Venetians in the face of this situation was inspirational, even hopeful. We were keen to avoid the panic often associated with the climate crisis and instead create, with this installation, a contemplative space for visitors to consider their relationship with water."
THE TECHNOLOGY
Ware's company Illustrious specialises in three-dimensional, spatialised sound installations. Ware uses design techniques and software honed over decades to uncanny effect. "What we do goes beyond surround sound," says Ware, "Using 3D sound software (based on a technique called Ambisonics), micro-second delays and phase shifts enable us to trick the ear into believing sounds are invisibly located in three-dimensional space. Usually, when you listen to music or watch a film, you're aware of the direction the sound is coming from – the technology we use creates a 'sound field' which truly immerses the listener. Even after 20 years I still find it astonishing and quite moving to experience."
Gabriel Ware says, "The soundscape features water rituals from around the world – the technology allows us to feel as though we're experiencing these rituals live – as if they're happening all around us. Three dimensional sound removes some of the barriers of traditional audio setups to offer incredibly vivid experiences."
FURTHER INFORMATION
Martyn Ware
MARTYN WARE is a musician, producer, designer and innovator, born in 1956 in Sheffield, UK. He formed The Human League in 1978, British Electric Foundation in 1980, and Heaven 17 the same year. With these and others, Martyn has featured on recordings totaling over 50 million sales worldwide, establishing himself as a pivotal figure in the development of popular music. Amongst others, he has produced Tina Turner, Terence Trent D'Arby, Chaka Khan, Erasure, Marc Almond and Mavis Staples.
In 2000, he founded Illustrious Company with Vince Clarke (Erasure, Depeche Mode) to explore the creative and commercial possibilities of their unique three-dimensional sound technology. With Illustrious, Martyn has created immersive sound experiences for clients including the British Council, The Science Museum, The Royal Ballet, Amnesty International, the V&A Museum, Mute Records, BBC TV, the Royal Observatory Greenwich, BAFTA, Museum Of London, and Tate Britain. He created sonic architectural works in the British Pavilion at the Venice Architectural Biennale in 2006, and has designed sound installations in extraordinary, diverse settings across five continents.
Martyn is a Visiting Professor at C4DM at Queen Mary College, University of London, a visiting lecturer at the Royal College of Art and the Harvard Graduate School of Design, a patron of Arts & Business, a member of the LA-based international think-tank group Matter, a Fellow of the Royal Society for the Arts, a member of the Writers Guild of America and a founder member of 5D (a US based organisation promoting all aspects of immersive design). He also lectures extensively on music production, technology and creativity at universities and colleges across the world including the Red Bull Music Academy.
Illustrious Company
ILLUSTRIOUS COMPANY was formed by Martyn Ware and Vince Clarke in 2000 to create new forms of spatialised sound composition using three dimensional surround-sound systems. Collaborating with digital and fine artists, world heritage sites, museums, exhibitions, live events, dance, theatre, technology developers, researchers and educators, Illustrious has created over sixty unique sound projects exhibited or performed worldwide.
Technical expertise combined with unparalleled creative and production experience, Illustrious offers the most immersive, sonic-augmented reality available. Illustrious also offers consultancy in cutting-edge sonic research and solutions.
Gabriel Ware
GABRIEL WARE is a modern hybrid orchestral composer for soundscapes, film and drama.
Having begun his composition journey in 2015 without a formal music education, Gabriel quickly developed his style and advanced his production techniques, relying entirely on his pure passion for film and television music. Since then, Gabriel has worked on many major soundscape and media projects, lending his advanced understanding of emotion,  texture, and experimental style, to much acclaim.
Oscar Blustin
OSCAR BLUSTIN is a writer, director and producer specialising in live immersive entertainment. In the UK, he has created pioneering immersive and interactive adventures for clients including the UNESCO World Heritage Site in Durham, The National Maritime Museum, and the London Transport Museum, as well as landmarks including Tower Bridge, The Actors' Church in Covent Garden, and Wilton's Music Hall. In 2011, he founded SPECIFIQ, an experiential site-specific theatre company that has produced work at venues from the National Theatre to the Vaults beneath Waterloo Station, from high-rise office blocks and castles to libraries, churches, disused shopfronts, forests and stately homes.
He has lectured at universities, drama schools and conferences on both sides of the Atlantic, and was awarded a Visiting Fellowship at Keene State University, New Hampshire.
Anna Söderblom
ANNA SÖDERBLOM's background is a hybrid of arts, media and technology – finding new and interesting ways to tell stories. 
In 2009, she founded a company to develop immersive theatre techniques and cross-platform storytelling, exploring ways to create and manage this (then new) kind of entertainment. Ten years of artistic and logistical evolution has culminated in Storia, an organisation committed to world-class immersive entertainment, ethical cultural tourism, and accessible, experiential history. Storia's inaugural production, a vast trans-media immersive historical extravaganza, will open in Venice, Italy, in summer 2023.
Anna has worked as a journalist, columnist and sub-editor for The Times, and as a reporter for the Guardian. She began working on the internet in 1997, developing content and products across a wide range of online platforms. As half of a two-person team, she conceived and created the first mobile digital products for News International, and has consulted on digital and content strategy for clients ranging from UNICEF to Sky. As Digital Content Director for a creative advertising agency, worked with English National Opera, Expedia, Royal Mail and many more.