DOLLS by John Lee Bird
19 July @ 11:00

-

23 July @ 17:00

free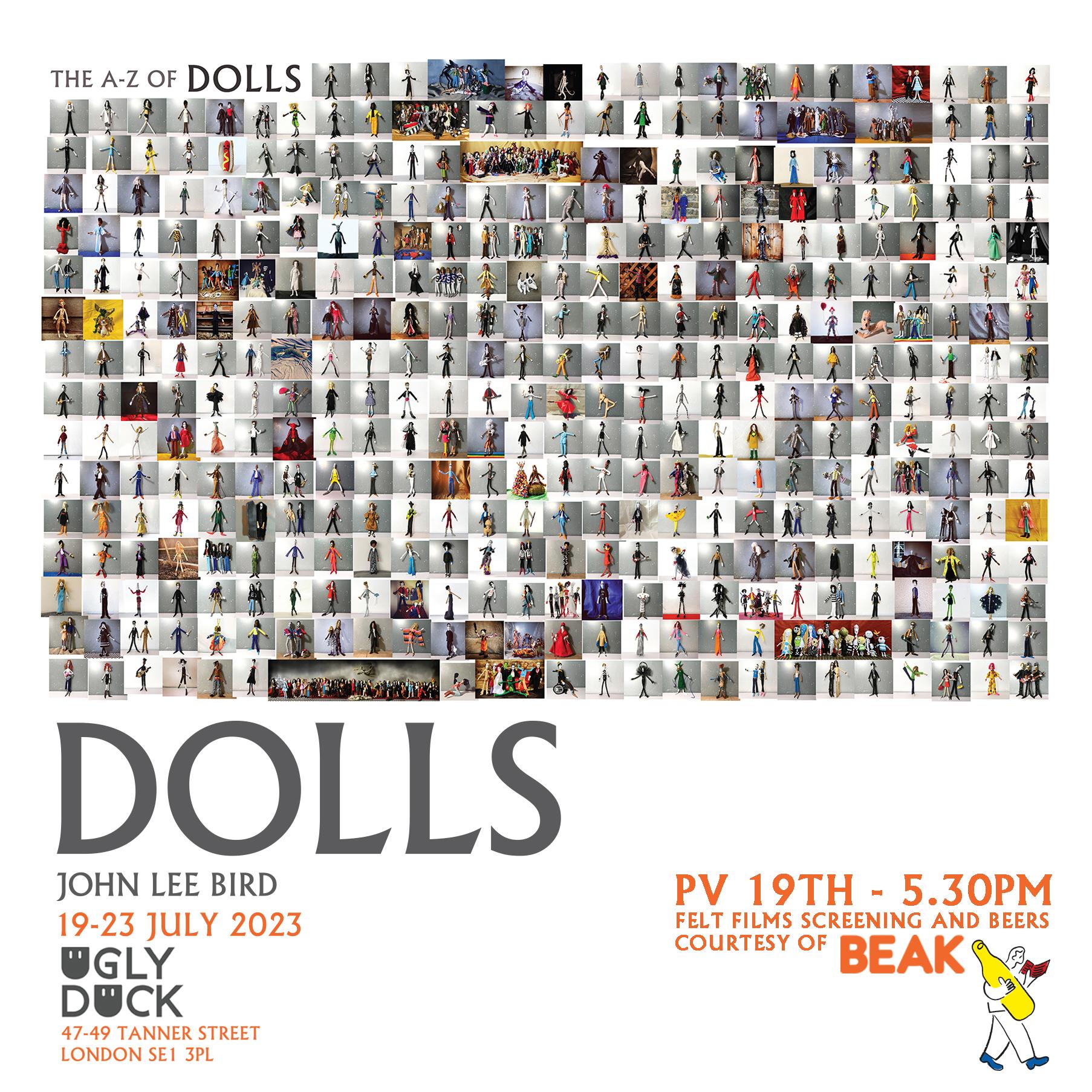 Dolls by John Lee Bird
'Dolls and idols – a way of existence'
Artist John Lee Bird will be presenting a major solo exhibition, bringing his new DOLLS project alongside work spanning his 25 year career including large scale paintings, print, drawing and film. With influences stemming from film, cult TV, performance, drag and music, the exhibition will be a celebration of culture, London, and the LGBTQ+ community.
John says of his work: "The DOLLS project began at the beginning of lockdown with a crippling spinal condition. I felt the urge to return to working with fabric and textiles, the way I'd begun my art degree in 1997. I found a box of felt in my studio and decided on a whim to make a David Bowie doll… just over 3 months later I'd made 69 Bowie dolls; one to mark each year that "The Man Who Fell To Earth" graced us with his existence. Covering every stage of his career. Celebrating the life of my idol and all the costume collaborators that brought his creativity to our eyes, an obsessive tribute. My library of Bowie's music as the soundtrack to my endless stitching.
The project spiralled, I wanted to make more, looking at my vast music collection I decided to dive in and bring everyone to life in felt form. Immersing myself in their sounds as I stitched. Making one a day became an obsession and driving force…and my daily
entertainment. Then it continued, I started to look at my favourite films and tv moments, ALIEN, The Exorcist, Twin Peaks, Buffy The Vampire Slayer and many more. Finally deciding to stop stitching after 3 whole years in March 2023…nearly 800 dolls later.
Working with textiles gave me a comfortable way to work and an exciting challenge to attempt portraiture of a different kind: over the years I have worked on portraits through various mediums, including a ten-year project documenting performers in large-scale paintings, collage work and drawings; but I've never explored portraiture in textile work, until
now.
Each doll is 13 inches tall. Lovingly hand-sewn from felt…with beads, buttons, wool and occasionally extra fabrics and embellishments. Combining my love of music, films and fabric gave me a sense of purpose and freedom to play and helped me through the darkest moments." … Throughout the exhibition run, there will be evening performances: showcasing some of the
acts included as dolls. Including live bands, spoken word and some special cabaret slots by performers from Cabaret vs Cancer who John will be raising funds for.
On the opening night, visitors can purchase from a range merchandise to support the exhibition and there will be the launch of the special exhibition edition of the David Bowie Is A Doll book. There will be daily screenings of DOLL FILMS, artist talks (led by guest 'DOLL' tour guides) and weekend workshops.
EXHIBITION DETAILS:
JOHN LEE BIRD
DOLLS (and other works)
At UGLY DUCK, 49 Tanner St, London SE1 3PL
19 th -23 rd JULY 2023. (Opening party 19 July 6-10pm)
WEDNESDAY 19 th – SUNDAY 23 rd JULY, 2023 : The event is FREE to attend and open daily
from midday to 10pm – apart from Sunday 23 rd which is midday to 6pm.
Hear John introducing the exhibition here: https://www.youtube.com/watch?v=MMFsvrE1rLQ
Instagram: @johnleebird
Facebook: johnleebirdart