Grief Tending Workshop for the Trans Community
25 February @ 15:00

-

18:00

free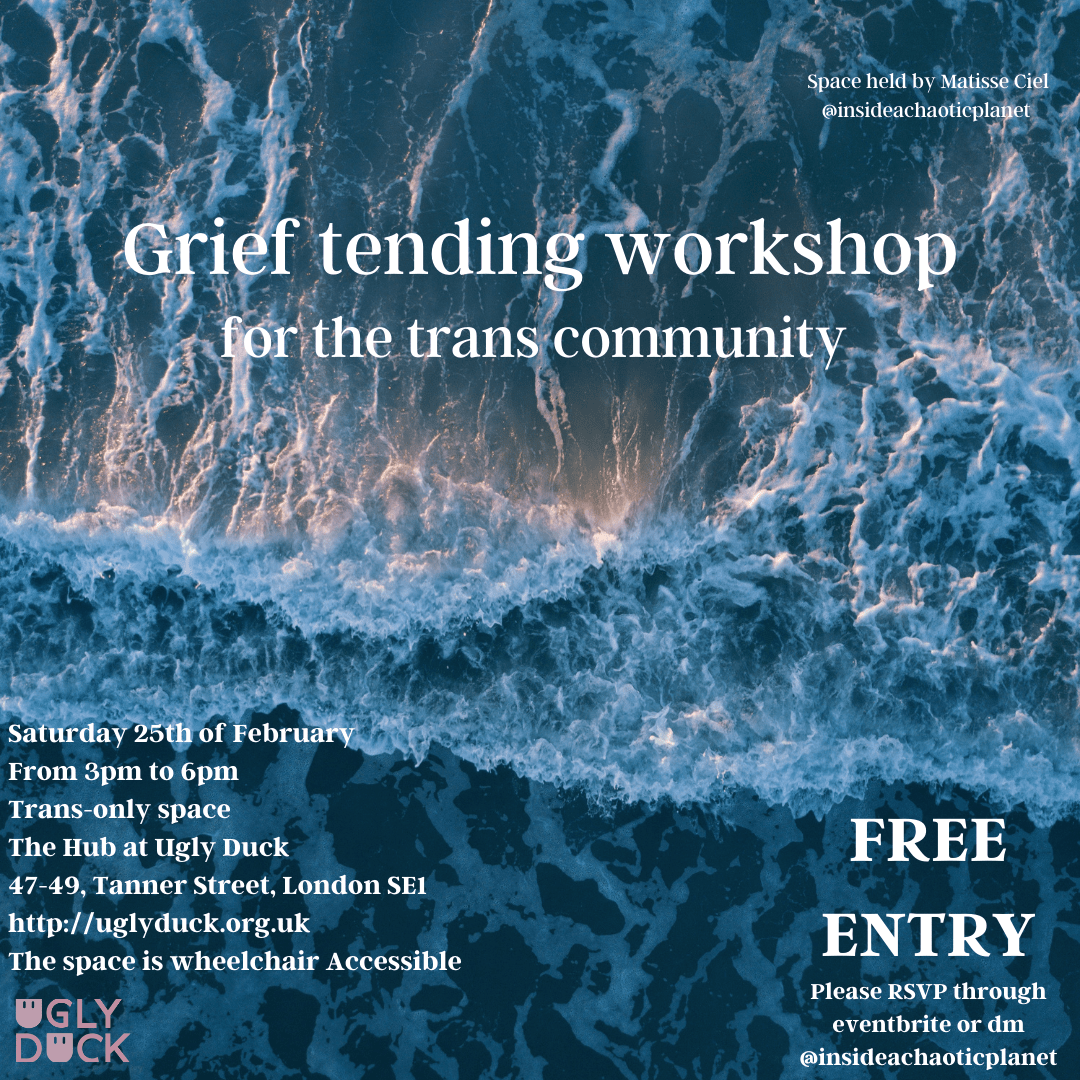 Grief Tending Workshop for the Trans Community. A space where we build trust and safety, connecting with our bodies and with one another. 
– space held by Matisse Ciel –
3 hours workshop where we will share space together. We will start by building a sense of trust and safety between us, and then connect with and move our bodies. Then I will offer activities to build an expression of our grief and share collectively to witness each other. A good amount of time will be allocated for rest and preparing ourselves to go back outside.
I am a white french, trans and genderfluid, neurodivergent and chronic-pained artist, who experiences depression and chronic suicidality. I experience grief as a constant, I feel it every day move through my body, its heavy and relentless waves crashing on my inner shores.
I want us to have a space, a moment and a mess of trans people to allow us to be in presence with the chaos of grief, witness and hold each other in it.
I believe that trans-only spaces are the fiercest and softest spaces I've ever been into. If there is a shore I want to grieve on it's ours.
I'm sad, I'm sick, I'm struck-grieven, I'm crazy, I'm fucked up and I'm enraged.
I know that all of this is choking my body and my breath when I can't move through it.
I invite you to come feel your grief – whichever form it may take.
I want to hold space for us, for the versions of us that have lost all hope, the ones who never want to wake up, the ones who want to break everything, the ones who wish someone could hold them but cannot fathom to be touched, the ones who would be touched but have no one around, the ones who had words for their experiences and never had anyone to witness them so they faded away, the ones who cannot let grief be heard because they have to stay strong to pay rent and care for the ones around them, the ones who want to be able to laugh before they let themselves cry, the ones who can't trust anymore but still want to give it a try. The ones I haven't known yet.
Accessibility
The space is wheelchair accessible. (Please dm me as I will come to get you by the garage door.)
Bring whatever you need to feel at home – what you need to drink, to eat, warm clothes that you feel good in to move or just breathe. A blanket is welcome for resting and feeling held.
The co-op nearby Ugly Duck is closed now, so if you need to buy supplies before please plan ahead. This space is permission-given, anything you need, you can do it. There are gender-neutral toilets that are in the space so you can go in and out of them without needing to go far.
My dms are open for any questions-doubts, communicating your needs and hopes and you can also message me at diamondash50@gmail.com