DOING BETTER WITH WORSE
3 March @ 18:30

-

5 March @ 18:00

Donation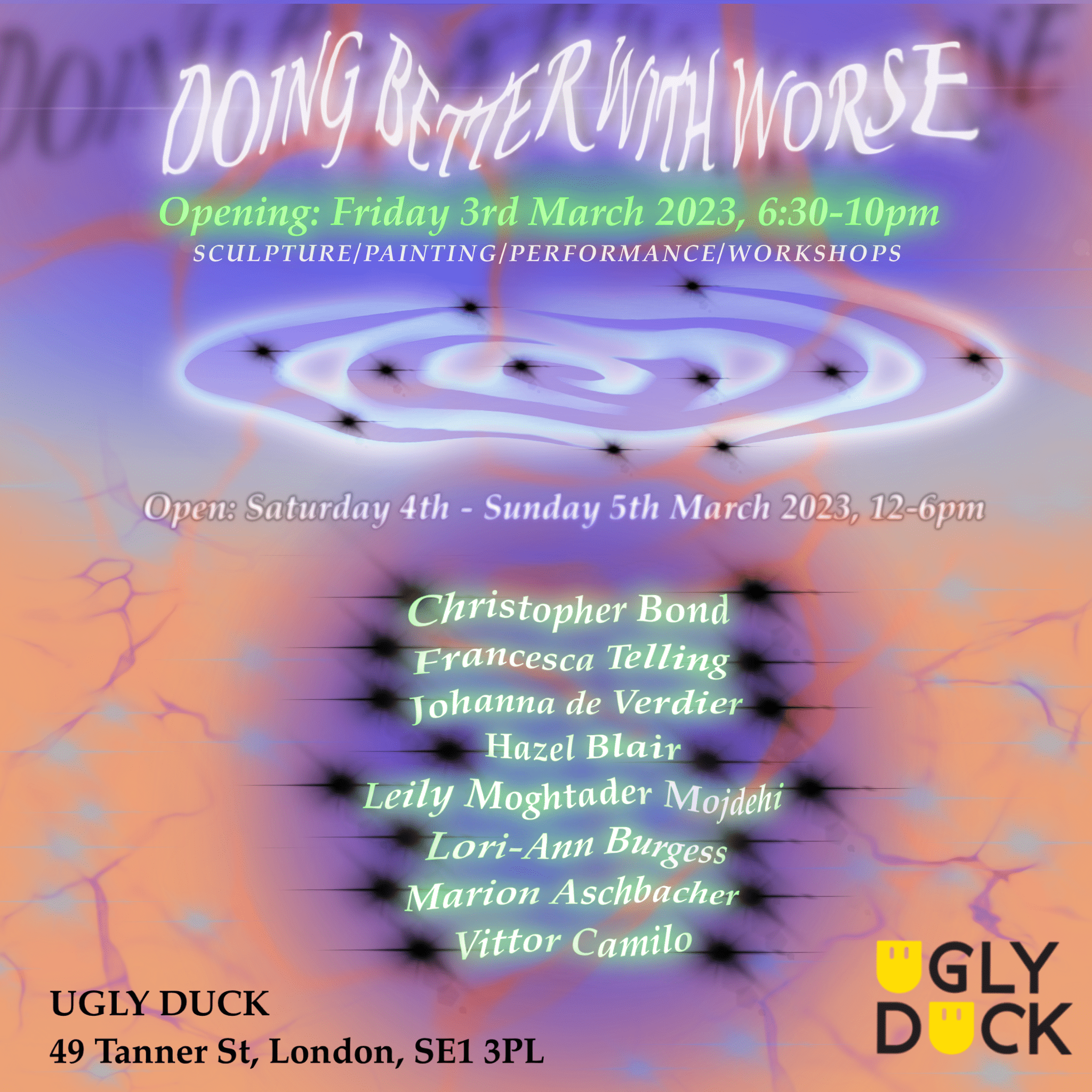 DOING BETTER WITH WORSE
Founded in 2018, A Particular Reality (APR) is an inter-institutional collective focussed on building creative learning environments upon values of anti-racism, care and collaboration. Formed by students, alumni, and educators from the Art Departments at Goldsmiths University of London, Kingston School of Art, Manchester Metropolitan and Middlesex University; APR is committed to providing a non-hierarchical space to support marginalised students and staff, within and beyond practice-based higher education.
The artists in this show have all, in some capacity, worked with APR undergraduate students tackling the large, unsaid questions that often go ignored in institutional learning.
Further reflecting on these questions around self-advocation, self-protection and economic uncertainty, 'DOING BETTER WITH WORSE' is a freeform meditation on our tendency to turn towards speculative thinking to briefly circumvent precarity, uncertainty and burnout.
By dodging the constraints of the present and the real, these artists embellish/exaggerate/dress-up narratives around identity with folklore, mythology, pop-culture and science fiction. The result is a diverse selection of works that refuse to speak about institutional problems in institutional languages, pointedly preferring to create tongues of their own.
MARION ASCHBACHER @aschbachermarion
LORI-ANN BURGESS @loriannburgess
JOHANNA DE VERDIER @_deverdier
LEILY MOGHTADER MOJDEHI @mojjyart