Second Skin: THE BALLAD OF GENESIS AND LADY JAYE
16 March @ 18:30

-

22:00

8£ – 13£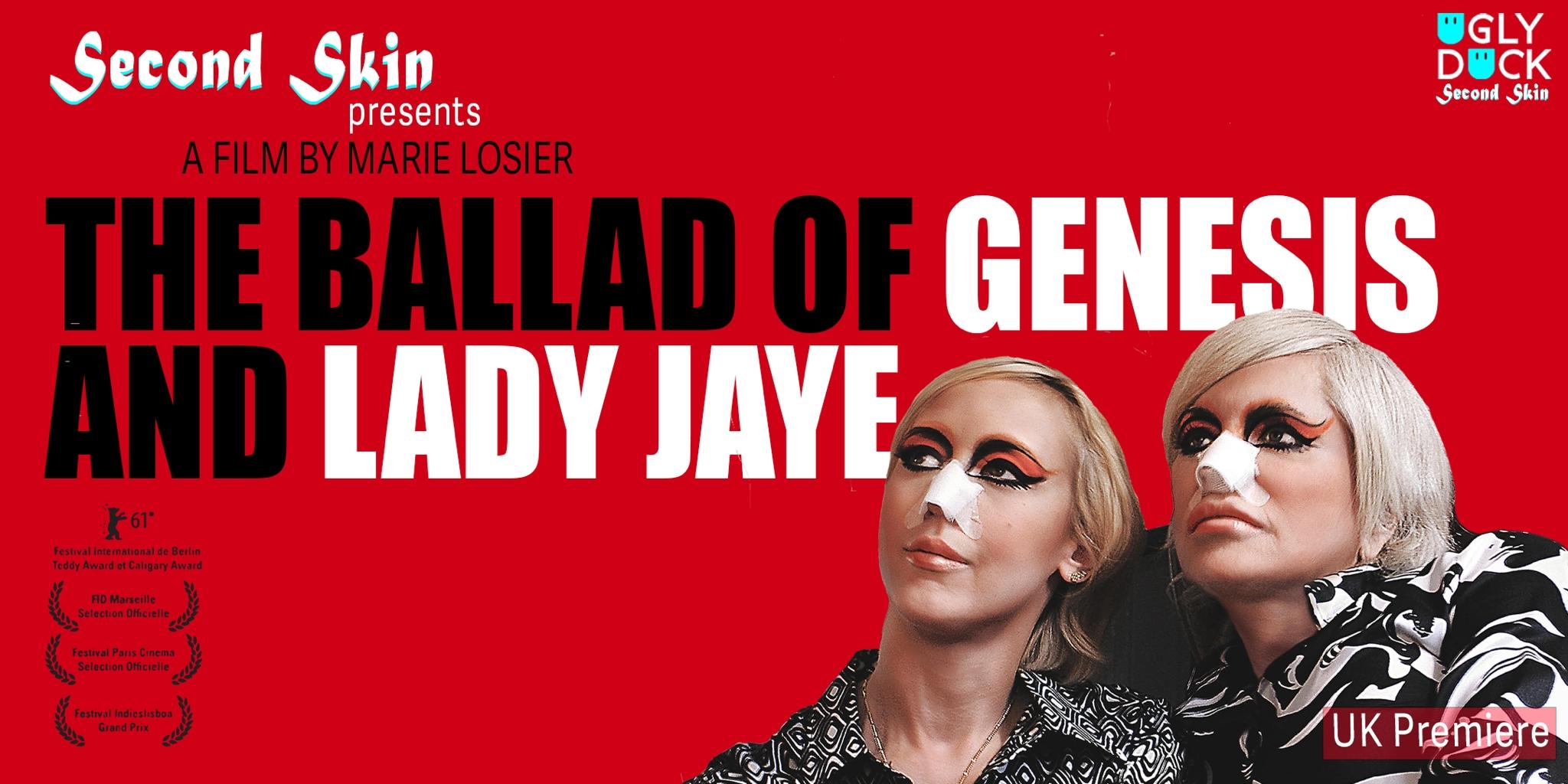 Second Skin & Ugly Duck presents the UK premiere of the film THE BALLAD OF GENESIS AND LADY JAYE by Marie Losier followed by a Q&A with the director.
Ugly Duck presents the UK premiere of the film THE BALLAD OF GENESIS AND LADY JAYE by Marie Losier followed by a Q&A with the director.
An intimate, affecting portrait of the life and work of groundbreaking performance artist and music pioneer Genesis Breyer P-Orridge (Throbbing Gristle, Psychic TV) and their other half and collaborator, Lady Jaye, centered around the daring transformations the pair underwent for their "Pandrogyne" project.
P-Orridge is revealed as an innate artist who inflects and illuminates every aspect of existence, high and low, exalted and humble, with a singular sensibility; Losier's film captures the poignant paradoxes, the ecstasies and burdens, of the transformation of life into art.
– Richard Brody, The New Yorker
"Marie's technique is very revolutionary. Most documentaries – and I've been in a lot of documentaries, I've been in Joy Division, Brion Gysin, Burroughs, Derek Jarman documentaries – all kinds of stuff. But they're all the same: they sit you down and they stick a camera at you and it's just your head, and you're just going blah, blah, blah, blah, blah… and it's very ordinary. There's nothing very interesting and radical happening. But with Marie there's animation and she gets you to wear the most ludicrous costumes and do these bizarre things that at the time you're doing them you're thinking, what the hell has this got to do with my life?
But when it's all assembled, it's like Fellini meets documentary. It's a very new, radical way of making documentaries, and quite honestly, we think that what Marie does and the way she does it will be the template for the future.
She is totally unique, very deep with a great sense of joy and emotions below her humor."
—Genesis Breyer P-Orridge
Shot on 16mm, Color, 72 mn. With Genesis P-Orridge, Lady Jaye, Psychic TV… Produced by Marie Losier Premiered at the Berlin Film Festival FORUM, in 2011
Film Distributed by
EPICENTRE FILMS (Paris-France)
KINO ARSENAL (Berlin-Germany)
ADOPT FILMS (NYC-USA)
Second Skin
Second Skin is the names of a series of evenings exploring multiple trans-identities through films, performances and discussions. The first one took place in March 2022 showcasing the UK premiere of HERMAN@S (SiblingX) by H. Alix Mourrier.
Ugly Duck's ground floors HUB and GARAGE are both fully accessible. The access route for wheelchair users is via the car park into the Garage. We have one fully accessible toilet. All toilets are gender neutral. There are benches and chairs accessible in the space to sit down. If you need us to help facilitate your visit to Ugly Duck please contact us at general@uglyduck.org.uk and we will do our best to help you to plan your visit. Ugly Duck is run by queer and queer "friendly" staff. All of us have basic training in inclusivity and accessibility.