DEEP MEANINGFUL CONVERSATION
10 March 22

-

13 March 22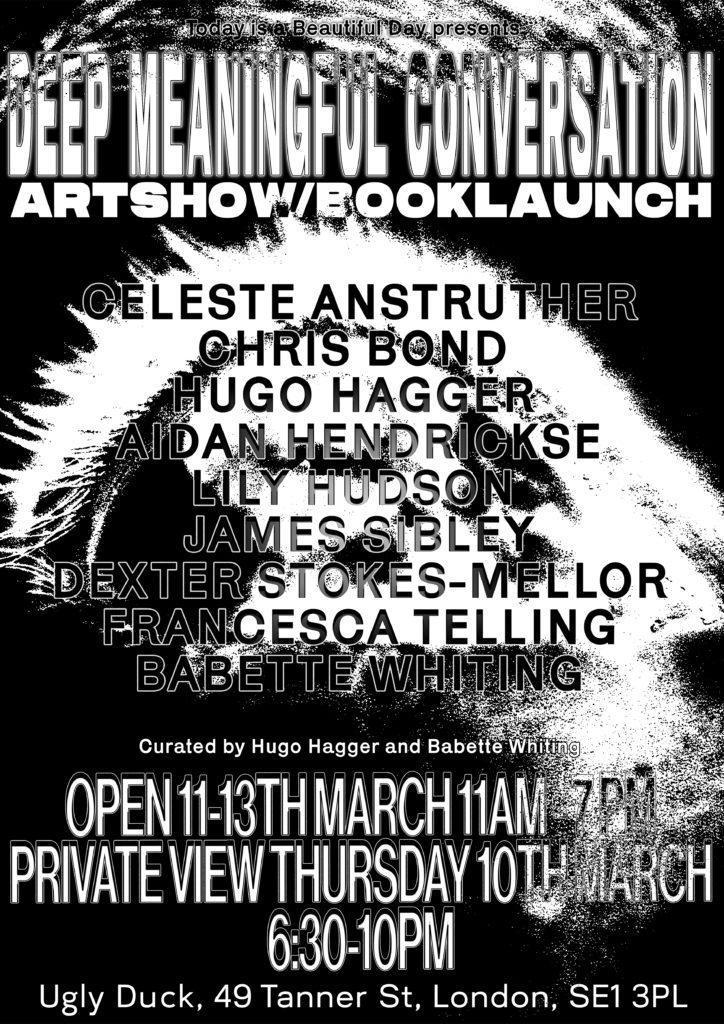 DEEP MEANINGFUL CONVERSATION CURATED BY BABETTE WHITING AND HUGO HAGGER
'From the tunnels, from the sewers, where two rat armies were locked in a life-and- death battle, came a wish of wastewater, a subterranean subtext. Today was a beautiful day.' –Bohumil Hrabal, Too Loud a Solitude
'The tunnel is a political site, but in itself it is not ideological. Moral or corrupt, it does not discriminate between its users. It is fragile and fickle, vulnerable to infiltration and appropriation, and liable to collapse – but through its ability to subvert, disrupt and elide, its work is always against power.' – Lili Zarzycki, The Architectural Review issue 1480
The Well to Hell Hoax of 1989, was first circulated by an American religious broadcasting network, reporting that a Soviet scientific programme in Siberia had drilled a borehole so deep that they had broken through to hell. In their account, upon reaching 14.4km depth they were met with an apparent chamber of fire, and dropped down a heat tolerant microphone only to hear the 'screams of the tormented'.
These 'screams of the tormented' featured in the broadcast transpired to be various loops and samples taken from the 1972 Italian horror film; Baron Blood.
In 1970 the Soviet Union began drilling the Kola Superdeep Borehole, located not in Siberia but on the Kola Peninsula bordering Norway and Finland. The project was completed in 1989, the hole reached a depth of over 12km, but only 9 inches in diameter, making it the deepest artificial point in the world. The borehole is now
welded shut.
The hoax provided fertile ground to explore ideas of the deep, of depth, of subcultures, the clandestine, of moving against power in the warrens of illegibility. This exhibition (and accompanying book) is founded on a group research project into the subterranean.
In a world seemingly resolute in its own immolation, these artists dive prematurely underground. They reckon with the second world beneath our feet, the dark (non) places in which bodies might define themselves away from socialised codification, places that hold mystical knowledge, places of danger and of rescue. They deviate with rats, burrowing alternative networks of thinking and discovering new, non-hegemonic strategies with which to build meaning.
Artists
Hugo Hagger  Artist/Curator
www.hugohagger.co.uk // @hugohagger 
Babette Whiting Artist/Curator
www.babettewhiting.co.uk  @Babette.whiting 
Christopher Bond Exhibiting Artist 
@skysportz
Celeste Anstruther / Exhibiting Artist 
www.anstrutherc.com / @anstrutherc
James Sibley / Exhibiting Artist 
Dexter Stokes-Mellor / Exhibiting Artist 
Aidan Hendrickse / Exhibiting artist 
@click_mute