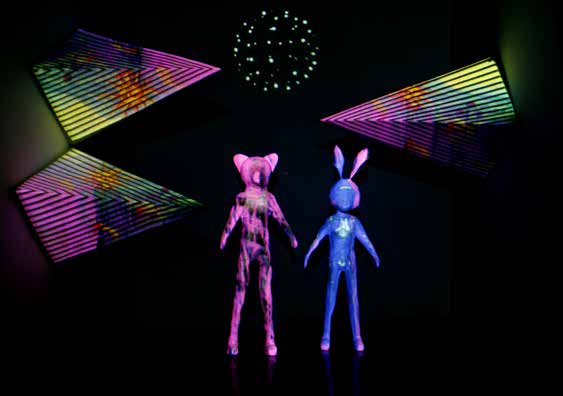 Multi media & Multi talented artist Blanca Regina answers our questions about her amazing upcoming projects
Hey Blanca, thanks for taking some time to chat with us about you and your practice. You will be doing a video mapping workshop at Ugly Duck in January 2020, I did take the class myself and really loved it and recommend it to everyone!
How did you start working in the field of creative technology, what led you to it?
I always had an attraction to the TV and the light that was emitting. TV was my first nanny. I always liked antennas too. Eventually, I was the one at home fixing the TV for my mom and any other electronics. As a creative being, I started painting with crafts when I was 8, as the smallest in the class they always gave me room to be free and innovate. I was also doing some ballet but my body coordination wasn't at its best.
Practice makes mastership and eventually left ballet for theatre at 15. I learned body coordination and later singing techniques. Those were my seeds as a multimedia artist also accompanied by playing with Amstrad computers, tapes and later with PCs.
I created some devices with motors and mirrors to expand projections and decorate venues for music nights and clubs. Designed content and use also light for creating different atmospheres for fashion shows and other events. In the 2000s the VJ scene arises and I became a VJ using Modul8 in 2005 and later mad mapper in 2012.
What are your favourite places in London to see this kind of projects?
London is my home since 2011. The cultural scene is vibrant. There are multiple venues that keep transforming London and that are attractive for new trends in music and visual arts. I particularly enjoy CAFE OTO and IKLECTIK in where I regularly work. At the moment also Hackney Baths. I enjoy going to 180 Strand to look at video art installations also at Ambika P3 and also some of the big museums.
As an artist, you are really using diverse mediums within your practice; sound art, projection mapping, sculpture, performance… How was the process of freeing yourself up from any creative boxes?
I became a video artist and VJ when I was 18 before the term VJ or Mapping were invented. I started using slide projectors and making slides with my computer by photographing its screen. Did learn from Carlos Serrano (Hypnotica) a master also in creating screens and kinetic objects. My first video acts in Madrid were to support big music shows in like Grand Master Flash who told me to only project his name on the screen to avoid distractions. By then I understood I was an artist as I was able to create situations using my language and personal formulas that combined learnings from my mentors in different fields, from singing to theatre, video and fine art.
You are also a curator, what sort of story do you want to tell via the exhibition you put on?
As a curator, I feel the need to learn and catalyze the work of some artists that resonate with me and come from diverse practices. Therefore working as a curator and with other artists expands my practice and my views. I like to get into unknown territory and contribute to the exhibitions with my experience towards the development of the creative language.
Can you tell us about the platform you created Strange Umbrella and about your passion for improvisation?
Free improvisation has a strong history in the UK. After my research in audiovisual performances, I felt compelled to expand my sound and music practice. Free improvisation invites you to create with any prior agreement. The key is listening.
In 2013 with free improviser & composer Steve Beresford I created Unpredictable Series and Pierre Bouvier Patron later joined them, focusing on experimental film and performance.
Collaborators and guest curators include Jack Goldstein (illustration & music), Tomi Osuna (design), Karel Doing (film performance), Sharon Gal (music & art), Gina Southgate (live painting and performance), Terry Day (music & art) and many others.
Current projects include 'Strange Umbrellas', which presents unique events of experimental music, free improvisation, film and art, in London and elsewhere.
One of our recent projects is Unpredictable: Conversations with Improvisers: a collection of 12 videos that have grown out of deep research into the nature of Free Improvisation, its history in the UK and its international connections. The videos respond to the urgent need to investigate the genre and its rich legacy. The series was commissioned by Sound & Music for the 50th anniversary of the British Music Collection in 2019
What are your news at the moment, you officially became a Dr !?
By 2010 I realized that I didn't want to work more in clubs as my main practice and that I needed to study to take my practice further, make some sense of my practice and enrolled in a master of scriptwriting in television and a doctorate programme in Communication School. By 2010 I received a doctorate in Humanities in Madrid, with the first Spanish thesis on audiovisual performance and VJing subject The VJ and audiovisual performance: towards a radical aesthetic of postmodernism,
Since then I achieved a post-doc research fellow and spent four years at Chelsea College of Art and Desing till 2014. Later taught at different universities including the University of Kent where I'm still teaching, Goldsmiths University in 2019 with a six months research project ' Immersive Pipeline' and taught my workshop Narrating Structures at Goldsmiths University, Ravensbourne University and numerous institutions and Universities Worldwide.
Thank you so much for taking the time to answer us, and we can't wait to host the workshop and more beautiful projects of yours.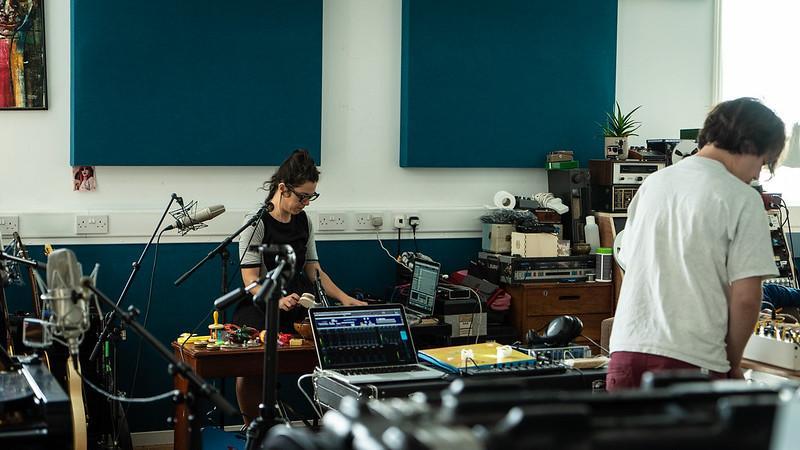 What's your reaction?
0
Smile
0
Angry
0
LOL
0
Sad